Analyses
A black day for Russia's air force. Day 446 of the war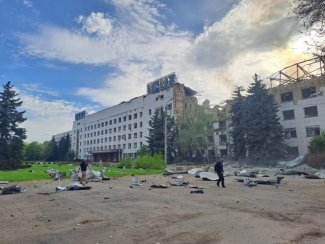 Source
war-evidence.mkip.gov.ua
On 13 May, a Su-34 fighter-bomber aircraft, a Su-35 multi-role fighter and two Mi-8 helicopters (probably modified for radio-electronic warfare) were shot down near the towns of Klintsy and Starodub in the Bryansk oblast of the Russian Federation. It remains unclear how four aircraft could be destroyed in one area. The Russian defence ministry has not commented on the loss of what was an entire air strike team, but the fact that four aircraft were shot down and their airmen killed was confirmed by semi-official military sources on social media (so-called 'war correspondents'). Meanwhile Colonel Yuri Ihnat, a spokesman for the Ukrainian Air Force Command, stated that the incident was caused by friendly fire from Russian anti-aircraft defence units. He dismissed the possibility that Ukraine had used missile systems donated by its Western partners on Russian soil, although he added that the enemy had probably lost not two, but three helicopters in Bryansk oblast.
In recent days, Ukrainian troops have continued their offensive operations in the vicinity of Bakhmut. They have been attacking enemy positions on the hills between Ivanivske and Klishchiivka, as well as in the area of the villages of Orikhovo-Vasylivka, Bohdanivka and Khromove. This is a slow, systematic move by assault troops to push the enemy out of successive points of resistance, with effective backup from artillery and tanks. On 12–13 May, a forward command post of the Russian 4th Motorised Rifle Brigade near Klishchiivka was shelled, killing its commander and several of his staff officers. At the same time, the Wagner Group's assault troops, disregarding the deteriorating situation on their flanks, are continuing their assault on the western outskirts of Bakhmut, where fierce clashes have been taking place over a dozen apartment blocks. Small-scale fighting is continuing along the remaining sections of the front, but it is not bringing about any significant changes in the parties' positions.
The past four days have seen a significant intensification of Russian attacks using kamikaze missiles and drones. On the night of 12–13 May, the successful use of Shahed-136/131 drones led to a large explosion near Khmelnytskyi, where Russian sources say ammunition depots were hit. The Ukrainian side reported that of the 21 kamikaze drones used, 17 (including all those heading for Kyiv) were shot down by their anti-aircraft defences. On the night of 13–14 May, the Ukrainians reported shooting down 18 Shahed-136/131 drones and three Kh-101/Kh-555/Kh-55 cruise missiles. The Russians successfully attacked an infrastructure facility in Ternopil (according to unofficial Russian sources, it was a railroad plant where military equipment was being stored and repaired). In turn, on the night of 15–16 May, the invaders attacked with six hypersonic Kinzhal missiles, nine Kalibr cruise missiles, three missiles of undetermined type and six Shahed-136/131 drones. According to a statement by General Valerii Zaluzhnyi, Ukrainian anti-aircraft defences neutralised all the objects. The main target of these attacks was probably Kyiv, where, according to the official Ukrainian report, there was only minor damage to infrastructure caused by falling debris.
In parallel with attacks on the enemy's deep rear, the Russians carried out intensive shelling of the frontline zone, using S-300 missile systems and guided aerial bombs. As in previous weeks, the most damage was suffered by Kostiantynivka and Druzhkivka in Donetsk oblast, Kherson and surrounding villages, as well as Nikopol.
On 12, 13 and 15 May, rocket attacks hit the city of Luhansk; this place is 90 km from the front line, and so has hitherto been well out of range of Ukrainian firepower. Strikes were confirmed on army barracks and industrial facilities, presumably used as military warehouses; there is as yet no information on Russian losses. The Ukrainian side has not commented on the events, although Russian social media have reported the use of Storm Shadow missiles for the first time in this war. Pictures were published which claimed to show a fragment of an ADM-160B MALD decoy missile, used to deceive missile defence systems. This is a US-made weapon, of a kind so far unlisted in the inventories of armaments the US has transferred to Ukraine.
On 13 May, on the eve of President Volodymyr Zelensky's visit to Berlin, Germany said it was preparing another military support package for Ukraine worth more than €2.7 billion. It includes 18 wheeled howitzers (most likely the previously announced RCH 155s, although they are not expected to reach Ukraine before March 2025) and artillery ammunition, four fire units of the IRIS-T SLM short-range air defence system (so far Germany has declared the transfer of four and delivered two such systems) and 12 IRIS-T SLS launchers with missiles, another 20 Marder infantry fighting vehicles and 30 Leopard 1 tanks, more than 100 armoured vehicles and more than 200 reconnaissance drones.
During Zelensky's visit to Paris on 14 May, France announced that it would train several Ukrainian battalions in the coming weeks and equip them with dozens of armoured vehicles, including AMX-10 RC armoured reconnaissance vehicles (referred to as wheeled tanks because they are armed with 105-mm cannon). In addition, President Emmanuel Macron announced further air defence support and the transfer of cruise missiles to Ukraine; France co-produces and uses Storm Shadow missiles under the name SCALP EG.
On 15 May, the day of Zelensky's visit to London, Britain pledged to give Kyiv hundreds of air defence missiles (most likely Starstreaks) and unmanned aerial systems, including hundreds of new strike drones (of an unnamed type) with a range of over 200 km. Prime Minister Rishi Sunak also announced that the flight phase of the basic training for future Ukrainian pilots will begin in the UK in the summer, and that London itself will work to convince other countries to send F-16 aircraft to Ukraine. On the same day, Italy announced the delivery of its part of the SAMP/T medium-range air defence system battery which it and France intend to hand over to Kyiv. However, the Ukrainian operators of the system are still receiving training in France. Moreover, Paris has not delivered its part of the system, without which operation of the battery during combat will be impossible.
On 13 May, US Secretary of State Antony Blinken and Ukrainian foreign minister Dmytro Kuleba discussed preparations in a telephone conversation for the Ukrainian counteroffensive and further arms deliveries. Kuleba noted the importance of providing Kyiv with F-16 fighter jets, and of taking the necessary steps to begin training Ukrainian pilots.
A British military intelligence communiqué on 14 May indicated that the Russian forces involved in the invasion of Ukraine number more than 200,000 men. The report stressed that the Russian troops are largely made up of poorly trained reservists using outdated equipment; many units are facing personnel shortages. On 14 May, the Ukrainian General Staff announced that the enemy army has not given up on conscripting prison inmates. It was noted that some 200 prisoners arrived at one field camp in the Luhansk oblast to undergo four weeks of training there, with another group of convicts (250) expected to arrive by the end of the month.
President Vladimir Putin's decree allowing foreigners and stateless persons to obtain a Russian passport on an expedited basis was published on 15 May. The condition for receiving the passport is to sign a contract with the armed forces for at least one year. Citizenship will also be granted to the spouses, children and parents of those who agree to military service.
Also on 15 May, Belarusian president Alyaksandr Lukashenka visited the command post of Belarus's air forces and air defence. He stated that the troops have been on heightened alert for several days due to the deteriorating situation in Russian airspace. He recalled that aircraft and helicopters were shot down over Bryansk oblast in the Russian Federation. For this reason, the anti-aircraft defence of Belarusian military airfields has been strengthened, with about 1000 troops operating anti-aircraft missile systems, combat aircraft and radio-technical equipment.
Commentary
13 May was a black day for Russia's air force. It lost relatively modern Su-34 and Su-35 aircraft; they had had just over 200 of them at the outbreak of war, and they have so far used them sparingly on the front lines. The most likely reasons for the downing of the planes and helicopters are Russian friendly fire or the possible activity of Ukrainian long-range missiles, which would have had to operate in the immediate vicinity of the border. Regardless of which side the missiles were launched from, Russia losing four aircraft in its own airspace is an embarrassment for their military aviation. In addition, there was another incident less than a month ago: Russian aircraft dropped a bomb (or, in another version, launched a missile) on their own city of Belgorod. All this will hit the invading army's morale hard, and calls into question the efficiency of their military aviation, which has not once been able to significantly affect the course of operations on the front since the beginning of the war.

The Ukrainian side's use of Storm Shadow missiles to attack targets in Luhansk should be seen as part of preparations for the crucial phase of the counteroffensive. On one hand, the missile attacks on military targets located in the 'capital' of one of the two unrecognised republics are symbolic, since Luhansk – unlike Donetsk – has so far been beyond the reach of Ukrainian artillery and missile systems. On the other hand, these strikes will force the Russian side to disperse and withdraw its logistical nodes, which will undoubtedly reduce the effectiveness of supplies to the frontline.

The size of the new German support package for Ukraine is surprisingly high: it is equivalent to all the military aid, estimated at €2.7 billion, which Berlin has sent since last February. At the same time, it was noted that the package will come entirely from industrial reserves or current production. This means that the deliveries will take place over a period of several months, as some of the armaments have yet to be built. In addition, Germany has still not delivered a significant portion of the armaments it already pledged last year, the value of which is included in the above-mentioned sum of €2.7 billion in aid.

From the wording of the British communiqué, it can be inferred that the training of Ukrainian pilots is still at an early stage, and involves people who have no flying experience. The announcement that the flight phase of the basic course will begin this summer also suggests that its theoretical part is already underway. According to the NATO-approved pilot training programme, the first Ukrainians taught from scratch in the UK should complete the course no earlier than late 2025/early 2026. Almost all the supplies and support declared by Germany and the UK will come to fruition in the long term – that is, after the counteroffensive announced for the spring/summer period. Thus, the support announced should not be viewed as immediately improving Kyiv's situation, but rather as preparation for the losses which will be incurred as a result of the planned offensive.