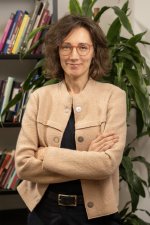 Justyna Gotkowska
Deputy Director
Directors
Deputy Director at the Centre for Eastern Studies (OSW) 

and head of the Security and Defence Department.

Formerly Coordinator of the Regional Security Programme and analyst in the Department for Germany and Northern Europe. A graduate of the Institute of Applied Linguistics at the University of Warsaw, and of European Studies at the RWTH Aachen University. Visiting scholar at the Norwegian Institute for Defence Studies and at the University of the Bundeswehr Munich; regular participant in multinational research projects, including at Think Visegrad, Estonia's ICDS and Germany's DGAP.
Expertise
security and defence policy of Germany, Nordic and Baltic states

NATO and EU's Common Security and Defence Policy from regional perspective

military cooperation in Central and Northern Europe
Major publications
NATO after Madrid: how much deterrence and defence on the eastern flank?, OSW Commentary, July 2022
Sweden and Finland on the threshold of NATO membership, OSW Commentary, May 2022
German arms deliveries to Ukraine – the SPD's controversial course, OSW Commentary, April 2022
The war in Ukraine: consequences for the Bundeswehr and Germany's policy in NATO, OSW Commentary, March 2022
Strategic Compass. New bearings for EU security and defence?, ed. Daniel Fiott, Gustav Lindstrom, Chaillot Papers, EUISS, December 2021
The EU's security and defence policy: in search of a compass, OSW Commentary, September 2021
NATO 2030: towards a new strategy, OSW Commentary, June 2021

Regional Cooperation for a Stronger NATO

, #NATO2030 Policy Brief No. 7, International Centre for Defence and Security, April 2021

Sweden's security. The long way towards total defence, OSW Point of View, January 2021

USA – Germany – NATO's eastern flank. Transformation of the US military presence in Europe, OSW Commentary, August 2020

European strategic autonomy or European pillar in NATO? Germany's stance on French initiatives, OSW Commentary, February 2020

A European Defence Union? The EU's new instruments in the area of security and defence, OSW report, December 2019

NATO in transition, OSW Commentary, December 2019

The US-Polish Enhanced Partnership to the Region's Benefit?, in: Andris Sprūds, Māris Andžāns, Sandis Šrāders (ed.), NATO at 70 in the Baltic Sea Region, The Rīga Conference Papers 2019, October 2019
US-German clash over international order and security. The consequences for NATO's Eastern flank, OSW Commentary, February 2019
NATO's Northeast Quartet: Prospects and Opportunities for Baltic-Polish Defence Cooperation, Policy Paper, ICDS in cooperation with OSW, November 2018
Rebuilding Germany's air defence capabilities: on the eve of crucial decisions, OSW Commentary, May 2018
The trouble with PESCO. The mirages of European defence, OSW Point of View, March 2018
Polish Defence Policy and the Security of the Baltic Sea Region, in: Andris Sprūds, Māris Andžāns (ed.), Security in the Baltic Sea Region: Realities and Prospects, The Rīga Conference Papers 2017, October 2017
Aurora: Sweden's response to Zapad?, OSW Analysis, Warsaw, September 2017
The CSDP's renaissance. Challenges and opportunities for the eastern flank, OSW Commentary, Warsaw, June 2017
Between co-operation and membership. Sweden and Finland's relations with NATO, OSW Study, Warsaw, March 2017
The Nordic countries on Nord Stream 2: between scepticism and neutrality, OSW Commentary, Warsaw, October 2016
High on reassurance, low on deterrence – Germany's stance on strengthening NATO's eastern flank, OSW Commentary, Warsaw, July 2016
NATO's Eastern Flank – a new paradigm, OSW Analysis, Warsaw, July 2016
Pro-American non-alignment. Sweden and Finland develop closer military co-operation with the United States, OSW Commentary, Warsaw, April 2016,
A weak link? Germany in the Euro-Atlantic security system, OSW Point of View, Warsaw, January 2015
Controlled 'Europeanisation'? The KMW–Nexter merger and the Germany's new strategy for the arms industry, OSW Commentary, Warsaw, August 2015
Norway and the Bear. Norwegian defence policy - lessons for the Baltic Sea region, OSW Point of View, Warsaw, January 2014
The current state, problems and future of Germany's air and missile defence, OSW Commentary, Warsaw, April 2013
Sitting on the fence. Swedish defence policy and the Baltic Sea region, OSW Point of View, Warsaw, March 2013
Closing the gap? Military co-operation from the Baltic Sea to the Black Sea, OSW Report, Warsaw, December 2012