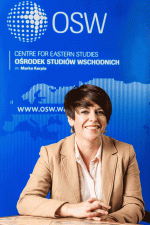 Iwona Wiśniewska
Senior Fellow
Russian Department
University education: Warsaw School of Economics (1994-2000): MA in economics, major in International Economic and Political Relations completed as part of the European and Eastern study paths
Warsaw School of Economics (2001-2002): Extramural post-graduate studies in Corporate taxation and finance
Since February 2000, analyst at the Centre for Eastern Studies, initially at the Economy Department, and subsequently at the Russian Department.
Participation in conferences and seminars, including the Polish-Russian Nizhny Novogrod-Warsaw round table entitled "Privatisation, its results and prospects: the experiences of Poland and Russia" organised by the Serock Institute for Business Development and devoted to social and economic transformations; the "Transgas pipeline (1970) – Baltic Sea Pipeline (NEGP, 2005) revisited" conference at the Columbia University in NY (April 2006); the seminar on the Russian Federation's economy and society organised by the Russian-Finnish Science and Technology Commission in Helsinki (October 2007); the conference on the energy future for the Baltic Region in St. Petersburg (October 2008). From the begining of the 2010 - participation in the POLINARES project as OSW representative.
Expertise
The economy of Russia: macroeconomic trends, ownership transformations, development of the energy sector, Russia's investment policy and economic co-operation with abroad
Major publications
OSW Studies
Policy Berefs
Analyses
The ecomomic integration of former USSR countries, October 2002;
Cooperation
OSW with CASE: The economy of Poland's eastern neighbours, July 2004;
OSW with Center for International Relations: Russian-German relations between 1998-2005, February 2006.