OSW Report
Shale gas in Bulgaria, the Czech Republic and Romania. Political context - legal status - outlook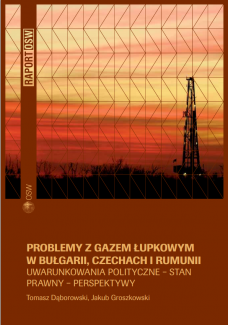 Despite their initial interest in shale gas exploration, over the past year Bulgaria, the Czech Republic and Romania have become increasingly sceptical about the development of unconventional gas resources. In January of this year Bulgaria introduced an indefinite ban on the exploration and production of shale gas and Romania followed suit in May by introducing a six-month moratorium on exploration work, which it plans to extend by another two years following the country's parliamentary elections scheduled for December.
Similar measures are being planned by the government in Prague. The aim of this report is to explore the reasons why countries which claim to want to improve their energy security have been showing increasing scepticism towards shale gas.
Tomasz Dąborowski - analyst at the Centre for Eastern Studies (OSW), is an expert on political and economic affairs in South-Eastern Europe and the region's energy policies.
Jakub Groszkowski - analyst at the Centre for Eastern Studies (OSW), specialises in the domestic and foreign policy of the Czech Republic, Slovakia and Slovenia, with a strong focus on the economic and energy policies of these countries.