OSW Commentary
Arms deliveries to Ukraine: crossing the red lines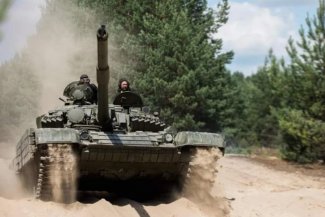 Source
General Staff of the Armed Forces of Ukraine, Facebook
The scale of the military support that the West has been providing to Ukraine is unprecedented. Both the type of supplies of arms & military equipment and the needs of Ukrainian Armed Forces have been evolving during the course of the war. Just as the conflict can be divided into major phases, one can identify the corresponding political decisions that extended Western arms supplies to Ukraine and crossed the West's self-imposed red lines. From the beginning of the Russian invasion, Kyiv has clearly defined its needs in terms of arms, military equipment and ammunition. The assistance individual countries have rendered to Ukraine has depended on their military and economic capabilities, as well as their political will.
As Ukraine's counter-offensive begins, Western military support appears to be waning, and Ukraine's partners have been emphasising the scale of their assistance to date rather than announcing substantial new supplies. This stems from the depletion of stocks and the need to ramp up arms production, particularly in Europe. The West is now facing the challenge of bearing the growing costs of the prolonged war. The Ukrainian victory is predicated not just on maintaining Western military support, but on significantly increasing it.
The starting point – Ukraine's defence capabilities and needs
Ukraine inherited an extensive arms industry from the Soviet Union, but it was unable to independently manufacture any category of arms and military equipment of complex design. In order to meet the needs of its armed forces, Ukraine had to cooperate primarily with Russia. Following the Russian attack in 2014, Ukraine shifted away from its neighbour and reoriented its arms production towards cooperation with the West. However, the Ukrainian arms industry was constrained by economic and political considerations. Ukraine was permanently short of funds to finance the technical modernisation of its armed forces, while Western countries were reluctant to transfer modern military technologies to Ukraine, especially those necessary to manufacture heavy weapons. In order to keep most types of its post-Soviet arms and military equipment operational, Ukraine had no choice but to cooperate with the Russian arms industry, which unofficially continued in some areas until February last year.
Among the first targets of the Russian assault that started on 24 February 2022 were Ukrainian arms companies, whose main tasks during the war included repairing and maintaining equipment for the armed forces and other military formations (the National Guard and the State Border Guard Service).[1] Within weeks, the state lost most of its capacity to manufacture arms and military equipment, munitions and war materiel. It also lacked the resources to replenish the losses it had suffered or to ensure that equipment was properly maintained and repaired. Ukraine became dependent on support from and cooperation with the West in practically all of these aspects; some arms industry personnel and technologies were evacuated from the country with the intention of using them in the host countries.
Since the spring of 2022, Ukraine has only been able to continue its defence operations in all aspects thanks to all-round Western support: supplies of arms and military equipment and ammunition, as well as the organisation of repairs and maintenance of the equipment its military formations have been using. This external support has also included the transfer of war materiel in the broad sense (mainly fuel) and the provision of multi-faceted military training. The Ukrainian Armed Forces have been provided with access to capabilities they did not previously have; this was likely a decisive factor for the success of the first phase of the defence operation and the autumn counter-offensive. This primarily refers to real-time reconnaissance data provided by the United States, including target identification.
Ukraine's needs can be broken down into several categories. The most urgent issue is the continued need for ammunition and spare parts, without which it would be impossible for Ukraine to continue its fight. Kyiv also needs support to ensure that it can maintain and restore its existing capabilities. This includes repairs to damaged equipment and the provision of new equipment to make up for the losses. Finally, it is necessary to supply the Armed Forces of Ukraine with modern arms and military equipment, to boost their military capabilities and enable the recapture of Russian-held territory. Each of these categories requires a different industrial-technological, financial, logistical and political approach. Without a rapid, coordinated and adequate response to Ukraine's diverse needs, its victory will be impossible.
From rifles to fighter jets
Deliveries of arms and military equipment to Ukraine started back in 2014 following the annexation of Crimea, but initially they were modest in scope. The value of such supplies skyrocketed immediately before 24 February 2022. The United States provided Ukraine with $650 million worth of military equipment in 2021, while Britain supplied it with almost 15 percent of its own NLAW grenade launchers between 17 and 19 January 2022. In late 2021 and early 2022, as Russia stepped up its military pressure on Ukraine, the UK, Poland, the Czech Republic, Lithuania, Estonia and Latvia decided to send the defenders arms and ammunition at no cost. Other NATO countries, including Denmark, also declared their readiness to do so. However, this support only included light weapons and protective equipment, as well as uniforms and optoelectronics.[2] When it became clear that Ukraine had survived the first assault and Russian troops had been forced to withdraw from parts of the occupied territories in late March, the Western countries moved to supply Ukraine with more advanced weapons. In April 2022, Poland and the Czech Republic handed over a significant number of their Warsaw Pact-era tanks, infantry fighting vehicles, barrel and rocket artillery. Then, the United States pledged to deliver the first Western-made artillery and older-type armoured vehicles.
A breakthrough came at a meeting held at the US Air Base in Ramstein, Germany last April, in which defence ministers from 40 countries participated. The event marked the start of the regular meetings of the Ukraine Defence Contact Group, which resulted in pledges of supplies including a range of armoured vehicles as well as barrel and rocket artillery. These were delivered throughout the summer of 2022 and enabled the Ukrainian forces to launch successful assaults on Kherson and around Kharkiv. The next surge in arms deliveries did not occur until October, when Russia carried out massive air and rocket attacks on critical infrastructure. In the autumn and winter of 2022, the US, Germany and France declared that they would transfer multiple brand-new and used short-range air defence systems to Ukraine. In addition, the US and Germany announced in December 2022 that they would each deliver one battery of the Patriot medium-range system. January and February of 2023 saw decisions taken to deliver Western-made infantry fighting vehicles and tanks. Finally, in March Poland and Slovakia announced that they would send MiG-29 fighter jets to Ukraine. In May, US President Joe Biden expressed support for the delivery to Ukraine of fourth-generation Western multirole fighter aircraft, such as F-16s. A British-led coalition of the Netherlands, Belgium and Denmark to train Ukrainian pilots on F-16 aircraft was established. Additionally, the UK announced it would transfer air-launched long-range cruise missiles (Storm Shadows) to Kyiv.
For political, financial and feasibility reasons, the easiest thing to do for Western countries has been to supply light weapons and personal equipment for soldiers: the quantities of these have been and still are enormous. These items have allowed Ukraine to create new battalions of its Territorial Defence, the National Guard and the 'foreign legion'. Due to the volume of such assistance, it is not possible to determine the exact amount of weapons that have been supplied. In addition to the support from individual countries, fundraising has played a significant role in the transfer of personal equipment: thanks to such efforts, Ukraine has been able to equip entire battalions of its National Guard and Territorial Defence. However, after a year of war, Ukraine has depleted its stocks of even the most basic equipment and ammunition, and it is now completely reliant on foreign countries.
Moreover, the Armed Forces of Ukraine are now completely dependent on supplies of ammunition, barrel and rocket artillery from abroad. Ukraine has received a whole range of artillery systems of both post-Soviet and Western models. Their exact numbers cannot be determined, as some of the countries that have transferred weapons have not made their donations public. Most probably, more than 900 towed and self-propelled guns & howitzers have been delivered to Ukraine, including around 700 NATO-standard pieces; a further 200 have been pledged and will be delivered. The barrel artillery supplied by the West has not only made it possible for Ukraine to replenish its losses, but has also alleviated the problem of a shortage of post-Soviet calibre ammunition, as part of the Ukrainian Armed Forces has switched to systems that use Western-made shells. Ukraine has also received over a hundred multiple rocket launchers, including c. 40 Western systems with guided ammunition.
Without the supplies of tanks and infantry fighting vehicles, it would have been impossible for the Ukrainian forces to carry out the offensives in September and November 2022 which allowed them to recapture some of the Russian-occupied territory as Ukraine has suffered heavy losses in armoured weapons during the war. It has received some 500 tanks and more than 300 infantry fighting vehicles in 2022, but these were manufactured in former Warsaw Pact countries. However, these deliveries enabled Ukraine to maintain its offensive capabilities in the autumn. Early this year, Western countries also pledged to hand over around 200 Western-made tanks and infantry fighting vehicles. Most of these should have been delivered (except for the M1 Abrams and the Leopard 1, deliveries of which are likely to be completed by late 2023 or early 2024). However, only half of these tanks can be described as modern. The delivery of around 1500 tracked armoured personnel carriers, around 1000 MRAP (Mine Resistant Ambush Protected) vehicles and nearly 2500 military multipurpose all-terrain vehicles has made it possible to increase the mobility of Ukrainian units as they were expanded or reconstituted. However, these vehicles are not new, nor can they guarantee the desired resilience and survivability on the battlefield.
Ukraine's air defence has been draining its supply of ammunition as it responds to Russia's massive missile and drone attacks, which began in October 2022. Ukraine has received a number of post-Soviet very short- and short-range air defence batteries; while the exact figure remains undisclosed, it can be estimated to be at least a dozen. Western countries have promised dozens very short-range systems and over 20 short-range batteries; deliveries of these have already begun. In addition, Ukraine has received one post-Soviet medium-range battery, and is expecting to take delivery of three modern batteries of Western medium-range systems (two Patriot batteries and one SAMP/T). The air defence systems that have been pledged or whose deliveries are ongoing range from those that are obsolete and already out of service to state-of-the-art units. However, the availability of ammunition for these systems remains the critical issue, as Ukraine has been using them up at a rapid rate.
The Ukrainian Air Force has received large amounts of spare parts and weapons for its aircraft and helicopters. Deliveries of Polish and Slovak MiG-29 fighter jets have been ongoing since April this year. Despite media reports, no country has admitted to handing over its aircraft to Ukraine in 2022; decisions on this issue were announced in the first quarter of 2023. The ongoing deliveries have made it possible for the Ukrainian Air Force to continue its operations. More than 40 helicopters have been added to its stock, all but three of which are post-Soviet models. Half of the helicopters transferred are old and well-worn, but they have allowed Ukraine to largely replenish its losses. The transfer of the Storm Shadow missiles to Ukraine gave them deep strike capabilities, but due to their small number, their use has so far been very limited. The Ukrainian Armed Forces have also received thousands of unmanned aerial vehicles: from small, civilian devices to military reconnaissance and combat aircraft. These play an important role in reconnaissance and artillery guidance, as well as in efforts to shape the media coverage. Some of these UAVs have not been provided by states, but have been publicly crowd-funded.
The donors – differing approaches and scales of supplies
It is misleading to juxtapose the value of donated military assistance as reported by individual countries, because each of them calculates its support in a different way. Moreover, the methods of calculating that support and the assumed values of individual pieces of equipment are not generally made public. Some countries have not disclosed what weapons they send and in what quantities at all, for security reasons. In addition some of the lists of military assistance, for example the one compiled by the Kiel Institute for the World Economy (IfW), include non-military equipment (such as fire-fighting vehicles, in the case of Germany). Furthermore, the IfW includes equipment that has not yet been delivered (such as air defence systems, which are particularly expensive).
Several mechanisms for transferring arms and military equipment may exist even within a single country. For example, the US has been drawing weapons from its military stocks under the Presidential Drawdown Authority, or procures them from the defence industry under the Ukraine Security Assistance Initiative;[3] consequently, the same equipment can have two different price tags. It is also impossible to establish the real value of weapons and military equipment that are in use but often no longer in production. For example, Finland does not report the value of the arms and military equipment it has transferred, but rather how much it will cost to purchase new equipment to replace what has been handed over. For this reason, all the amounts provided by individual countries should only be treated as rough estimates, and so they cannot be compared directly. To do so, it would be necessary to carry out a thorough analysis of the arms transfers instead of simply juxtaposing their values.
The United States is the largest and most important donor of arms and military equipment to Ukraine. It accounts for more than half of all the deliveries that has been transferred,[4] and in many segments, such as HIMARS launchers and GMLRS missiles for these systems, it is even the sole supplier. Given its enormous military stockpiles, incomparable industrial potential and the world's largest military budget, the United States' support for Ukraine is not a major drain on the US Armed Forces; the Pentagon has thousands of armoured personnel carriers, infantry fighting vehicles, tanks and howitzers at its disposal. The United States is currently increasing its annual production of arms and military equipment, which is already much higher than in the European Union as a whole. Meanwhile, the volumes of manufactured munitions are set to increase sixfold within two years.[5] Only the US has sufficient weapons stockpiles and production capacity to supply Ukraine with modern tanks and aircraft at a rate that allows it to replenish its losses. Therefore, the US is set to remain the most important country providing support to Ukraine, especially in the medium to long term. At the same time, Washington has been relatively cautious in providing military assistance out of fear that the war could escalate and turn into a Russian-US/NATO conflict. Furthermore, Washington is a point of reference for many Western countries on the issue of what systems can be provided to Ukraine.[6]
The UK,[7] Poland, the Baltic states and the Czech Republic are the European leaders in supplying arms to Ukraine. Support from Lithuania, Latvia and Estonia is the largest in proportion to the size of their armed forces and economies. The common feature of the assistance provided by all of these countries is that it also comes from operational military units and not just from stockpiles. Moreover, these countries were the first to supply Ukraine with weapons systems that had not been transferred before. Even before the Russian invasion, Estonia had already taken steps to send it D-30 howitzers; Poland and the Czech Republic were the first countries to hand over post-Soviet tanks (T-72), while the UK was the first Western European country to announce that it would deliver Western-made tanks (Challenger 2) and long-range missiles. After Washington and London, Poland has been an important donor of arms and military equipment, without which last year's Ukrainian counter-offensives would have been much more difficult to carry out. Poland is the source of half of the tanks that have been transferred to Ukraine: these vehicles are still the primary means of breaking through the enemy's defences and making advances. It was also the first country to supply tanks in large numbers. Deliveries that have been completed or announced indicate that a large part of Ukraine's modern self-propelled artillery (Krab howitzers, Rak mortars) and wheeled armoured personnel carriers (Rosomak) will come from Poland.
Germany estimates the value of its assistance to date at €5.4 billion, however, Berlin has delivered less than €2 billion worth of arms and military equipment so far. While it has transferred large amounts of various types of weapons and equipment, this estimate also takes into account equipment which is still undelivered and, to a large extent, items that are not weapons or military equipment.[8] In 2022 the government in Berlin mainly focused on supplying Ukraine with logistical equipment, personal equipment and air defence systems, with a breakthrough early 2023 when it decided to deliver Leopard tanks and infantry fighting vehicles. It has actively sought to portray itself as a European leader in providing support to Ukraine, but its deliveries of new weapons systems have usually been preceded by pressure from the US, the UK and Poland.[9]
France's military support has been smaller than Germany's, focusing on supplies of artillery and armoured vehicles. France has not provided an official figure for its assistance (the IfW estimates it at €653 million)[10], but has itself assessed it as large. However, this opinion finds no confirmation in reports coming out of Ukraine, which suggest that the amount of weapons from France is limited. French and German support can be assessed as proportionally minor, especially when we take the size of their economies into account. The two countries have extensive defence industries, but their arms companies are not geared towards mass production and, a year into the war, are still waiting for major orders from their own governments. This shows that a lack of political will is one of the prime factors standing in the way of increased supplies to Ukraine.
The Nordic countries have transferred significant amounts of weaponry to Ukraine, which the IfW estimates at a total of €4 billion. Norway has handed over virtually all the weapon systems that its armed forces had stored.[11] Denmark has also cleared its warehouses, and is in the process of delivering all of its new barrel artillery (CAESAR howitzers), which has not even entered service.[12] Moreover, Copenhagen has declared its readiness to train Ukrainian pilots, and is one of the countries that is most likely to provide Kyiv with F-16 fighter jets. Until recently Finland had not disclosed the details of its support to Ukraine, but it changed this policy when it delivered Leopard 2R sapper tanks.[13] Sweden is the regional leader: it estimates its military assistance at €1.5 billion. It has been sending Ukraine not only equipment held in reserve, but also hardware from its active units (tanks and infantry fighting vehicles).[14]
Canada and the Netherlands do not have large weapons stockpiles, but they are wealthy countries, so in addition to transferring small amounts of equipment from their own stocks, they have also financed the procurement of new and used weapons for Ukraine.[15] The Hague expressed its readiness to train Ukrainian pilots, and is one of the countries most likely to provide Kyiv with F-16s, along with Denmark. Croatia, Spain, Portugal and Italy have made noticeable (but rather modest) contributions to Western supplies. Slovakia has handed over almost every Warsaw Pact-era weapon system it owned (apart from tanks), but has largely made this conditional on receiving Western substitutes. Arms and military equipment as well as ammunition from Bulgaria and Romania have also been turning up on the Ukrainian battlefield since last year, but these countries have not commented on reports of such supplies.[16] Slovenia and Greece have only provided minimal support, made conditional on their receiving military equipment from Germany in return. Belgium and Luxembourg have been assisting Ukraine to a relatively small extent, as their military capabilities are very limited. Turkey's support has also been limited.
In addition, there are countries that support Ukraine indirectly but for various reasons have not made the details of their involvement public. Finland, Estonia, Norway and Poland have been able to transfer larger quantities of their own weaponry to Ukraine thanks to their purchase and rapid or planned delivery of South Korean artillery, related ammunition, and tanks. South Korea's large stockpiles of artillery ammunition have also partially replenished American stores, but at the same time Seoul has still not changed its cautious position on direct military support to Ukraine. Some of the 90 T-72 tanks that were purchased for Ukraine by the US and the Netherlands and then refurbished in the Czech Republic came from Morocco.[17] Pakistan has most probably sent Ukraine (via Poland) unguided missiles and man-portable air defence systems; this was reported in the Indian media but has been officially denied by the Pakistani government. These are certainly not the only non-Western countries that have not disclosed transfers of weaponry to Ukraine.
The counter-offensive and Ukraine's needs
The supplies of arms and military equipment as well as ammunition from the West have allowed Ukraine to hold back the Russian troops with relative efficiency and recover some of the territory it lost. However, Ukraine still needs these supplies to continue its resistance and carry out offensive operations; transfers of ammunition should be considered crucial in this respect. Intermittent reports from the battlefront suggest that during the year of war the Ukrainian defenders have used up their stocks of artillery shells, missiles and grenade launchers of all types; the same most likely goes for rifle cartridges. Although Ukraine is making efforts to maintain or resume domestic production, and to launch production involving Ukrainian personnel in neighbouring countries (including Poland), it remains unable to cover even its most basic needs. To maintain the Ukrainian army's capabilities at a level that will allow it to hold back the Russian attacks with relative efficiency, the West needs to continue supplying ammunition of all types on a scale at least as high as in 2022. It should be remembered here that such quantities only cover the current levels of consumption, which on average are only a third of what the Russian army is expending. The West will have to ramp up its supplies to ensure that the Armed Forces of Ukraine have the reserves which will be necessary to prepare the Ukrainian military to recover the occupied territories, or to respond in case the Russian forces step up their attacks. This implies the need to expand production capacities, especially in NATO's European member states, as the intensity of clashes and related consumption of munitions already exceeds the manufacturing capacities of their arms industries.
Both Russian and Ukrainian forces have been suffering losses in equipment and personnel, but unlike Ukraine, Russia has retained its ability to restore these capabilities. If the West fails to ensure that Ukraine can do the same, the Ukrainian Armed Forces will be in danger of gradually losing the capacity to fight on equal terms. Therefore, it is necessary to provide continuous supplies of spare parts and a full range of equipment: from the most basic, personal gear to advanced combat systems such as air defence and tanks. Given the intensity of the ongoing battles, and thus the scale of the losses, the weapons that have been supplied so far (particularly the post-Soviet models) should be seen as just temporary replacements for the equipment that has already been destroyed. In 2023, Ukraine needs to acquire at least as much weaponry as it did in 2022. This will be particularly difficult with regard to post-Soviet equipment, the stocks of which are running out. Therefore, it is necessary for the Ukrainian Armed Forces to switch toWestern-made systems, both used and new.
To mount a successful counter-offensive and achieve a victory over Russia, Ukraine needs not only to maintain its existing military capabilities, but to expand them; this will require large-scale deliveries of modern weaponry within a relatively short period of time. In December 2022, the Commander-in-Chief of the Armed Forces of Ukraine, General Valerii Zaluzhnyi, put Ukrainian equipment needs at a further 300 tanks (in addition to those currently on the front lines), 600–700 infantry fighting vehicles and 500 howitzers.[18] These numbers are a rough reflection of Ukrainian estimates for the equipment needed to carry out offensive operations: in fact, even more weapons will be required to liberate all the occupied territories. Without these weapons the needs will only increase, as the Armed Forces of Ukraine will suffer further losses and face the need to replenish them. It is thus imperative to expand the production capacities of individual Western countries. Although only Ukraine is fighting this war, the resources of the West are making it possible for the Ukrainian military to keep on fighting. However, Western leaders are increasingly admitting that Western resources are running out, and will need to be replaced by current industrial production.
Ukraine has also been seeking deliveries of Western-made multi-role aircraft (F-16s) and longer-range weapons systems (ATACMS) for HIMARS missile launchers. These weapons would allow Ukraine to strike deeper into the Russian hinterland. The training of Ukrainian pilots for F-16 aircraft, which is scheduled to start at the end of June, means that their deliveries will take place in October at the earliest. This means that Western-made planes will not take part in operations before the end of the year. Ukraine needs 120 fighters, but European countries are not able to provide Kyiv with more than about 50 planes. The only country with sufficient resources to transfer this kind of weaponry to Ukraine is the United States. However, it is still sticking to self-imposed restrictions on military support to Ukraine, which stem from concerns over a possible escalation of the war, even if the US has successively crossed such red lines in the past.
The scale of the Russian-Ukrainian war in terms of human, equipment and geographical resources means that even state-of-the-art tanks, infantry fighting vehicles, long-range missiles and fighter aircraft have to be delivered not in pieces, but in entire tactical formations. In addition, it is necessary to set up adequate logistics and refurbishment facilities in each case, so that the damage does not completely prevent the arms and military equipment received from being used in further combat. One-off donations are not enough to meet Ukraine's needs: the country requires continuous and large-scale support.
At the start of the Ukrainian counter-offensive aimed at regaining the initiative in the war and driving the Russian troops out of the occupied territories, it is legitimate to ask whether the Ukrainian Armed Forces are capable of carrying it out. The answer is linked to the question of whether the West has adequately equipped and prepared the Ukrainian forces to execute it. At the Ukraine Defence Contact Group meeting held at Ramstein in April, US Secretary of Defense Lloyd Austin and the chairman of the Joint Chiefs of Staff General Mark Milley claimed that Ukraine had received up to nine armoured (armoured-mechanised) brigades in recent months.[19] However, fragmentary data does not suggest that the partners have provided the Ukrainian forces with the number of tanks and infantry fighting vehicles that would justify this claim. One should rather assume that it was referring to those tactical formations of the Ukrainian army which, despite more than a year of involvement in the war, have retained their full combat capabilities thanks to the systematic supplies of weapons, and will form the backbone of the potential counter-offensive. At the same time, Western donors are not convinced that the military support they have provided to Ukraine will be enough to achieve success on the battlefield. However, Western support is not the only important factor in this armed conflict: morale remains high in the Ukrainian Armed Forces, which has allowed them to defend the country effectively for much longer than the vast majority of Western experts predicted at the beginning of the war.
Western supplies of major categories of military equipment (status as of 6 June 2023)
Source: the authors' own compilation based on information from various sources.
---