Analyses
Nine Ukrainian brigades are ready for a counteroffensive. Day 424 of the war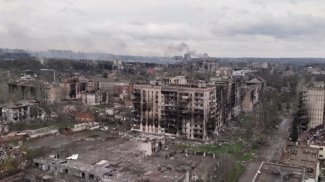 Source
war-evidence.mkip.gov.ua
Russian forces have resumed active operations west of Bakhmut. However, their attempts to break through Ukrainian defences in the area of the Chasiv Yar road junction were unsuccessful, as were their attacks on the southwestern outskirts of Bakhmut. However, the invaders' troops did make further advances in the western part of the town, and also resumed their attacks in the vicinity of Novomykhailivka, south of Marinka; the latter remains one of the main combat areas. Further Russian attempts to attack north and southwest of Avdiivka failed. After the attacks in the middle of last week came to nothing, the aggressors have reduced their activity in the direction of Vuhledar and Kupiansk. According to the Ukrainian General Staff, the hostile attacks are expected to remain at the level of about 60 per day.
Neither side showed much activity in the other combat zones. According to Russian reports, one exception was the area on the left bank of the River Dnieper at the Kherson rise, where a Ukrainian sabotage and reconnaissance subunit probably landed on 23 April. Commenting on this information, Ukraine's deputy defence minister Hanna Malar did not confirm the presence of defenders on the left bank of the Dnieper, and once again urged the media to refer to official reports.
The Russians have stepped up their missile attacks on the frontline hinterland in Donetsk and Kharkiv oblasts. Their targets included Kostiantynivka, Sloviansk, Kramatorsk and Kharkiv. The invaders' artillery and aviation continued shelling and bombing along the contact lines and in the border regions; they also extended their attacks to the right-bank part of Kherson oblast, as well as Nikopol, Ochakiv and their immediate environs. However, the shelling of Kherson became less intense. Meanwhile Ukrainian forces attacked a fuel base in the town of Rovenky in the occupied region of Luhansk oblast. Ukraine also reported that its forces had committed another act of sabotage in occupied Melitopol, while the local Russian administration reported drone attacks in Kursk oblast and Sevastopol city.
21 April saw the eleventh meeting of countries supporting Ukraine militarily in the Ramstein format. Summing it up, the head of the US Department of Defence Lloyd Austin announced that "in just a few short months" the Ukrainian army had received more than 230 tanks and 1550 armoured vehicles, as well as other equipment and ammunition from its partners which could support "at least nine new armoured brigades". He announced that they will increase Ukraine's military capabilities in the coming months and continue training the military there. He expressed confidence that the equipment coming to Ukraine over the coming months will give its army an advantage on the battlefield. According to Austin, as well as the chairman of the College of the Joint Chiefs of Staff, General Mark Milley, Kyiv is now most in need of ground-based air defence systems, which Milley described as "the most cost-effective and fastest way for Ukraine [to achieve its goals]" He also stressed that "our task and commitment to Ukraine" was to prepare and equip "up to nine brigades, armoured brigades, armoured-mechanised brigades, to conduct offensive or defensive operations". He assessed that these troops would be trained, manned, equipped and prepared for combat operations. He also stressed the issues of defender superiority and the invaders' problems in the areas of leadership, will, morale and discipline.
The Ramstein-11 meeting was accompanied by further announcements of military support. Canada's new package will be worth US$28.9 million (C$39 million), and is to include mainly fuel and war materiel (more than 88% of the total value), as well as small arms (40 sniper rifles) with ammunition and radios for Leopard-2 tanks. Finland intends to send military equipment for the Ukrainian soldiers who are training as part of the European Union's EUMAM Ukraine mission. Latvia plans to hand over all of its Stinger anti-aircraft mobile missile sets; in exchange, it is introducing newer RBS systems with much greater capabilities. Portugal is planning to transfer five armoured medical evacuation transporters (three M113s and two M577s). The Czech Republic confirmed that it has already shipped 37 T-72 tanks to Ukraine as part of a joint project with the US and the Netherlands to deliver 90 T-72 tanks, and Spain reported that it has begun transporting 6 of the 10 promised Leopard-2A4 tanks to Ukraine (via Poland). During the meeting, the defence ministers of Germany, Poland and Ukraine signed a letter of intent to establish a centre for servicing Leopard-2s on Polish territory.
Ukraine's defence minister Oleksiy Reznikov assessed that the result of the Ramstein-11 meeting was "bringing Russia closer to Nuremberg 2", and that each meeting in this format "not only gives more useful gifts to the Ukrainian army, but also aims to bring the criminals to justice".
According to an Associated Press report on 21 April, in the coming weeks Ukrainian soldiers should start training on 31 Abrams tanks, which will be sent to Germany for this purpose. The agency's sources stressed that they will not return to Ukraine with these tanks. The 250 servicemen are to be trained to a basic level (dealing mainly with driving and operating the vehicles) over a 10-week period; combat training is only planned to start after that is completed. On the same day, General Milley announced that the training of another group of 65 Ukrainian soldiers on Patriot systems had ended. The Americans have trained nearly 9000 Ukrainian servicemen so far, and currently 2500 of them are in training in Germany. On 22 April, more than 100 soldiers started training in Germany to use Leopard-1A5 tanks in the future.
On 23 April, the Ukrainian Air Force Command spokesman Colonel Yuri Ihnat suggested that an air defence squadron equipped with Patriot systems is already on combat duty, and that more sets of this type are on their way to the country. According to the reports confirmed so far, Kyiv should receive two Patriot batteries, one from the US and a German-Dutch one, which together can be considered the equivalent of one squadron. Ihnat estimated that by autumn – when the defenders expect the enemy to resume their missile attacks against Ukraine's energy infrastructure – the invaders will not have managed to accumulate even a third of the missiles they had at their disposal in late 2022 and early 2023. He also estimated that producing more missiles will take a long time, and that the sanctions imposed on Russia is hampering this process.
Also on 23 April, President Volodymyr Zelensky stated that Ukraine could not abandon Bakhmut, as if the enemy seized the town that would allow it to push onward and capture Kramatorsk & Sloviansk. He assured that Ukraine was preparing for a counteroffensive, although he admitted that the situation "could not be considered good".
On 21 April, the German defence minister Boris Pistorius said that the fighter jets currently used by the Luftwaffe are not suitable for Kyiv to use. As he put it, the Tornados and Eurofighters have different parameters than those which have been adapted to the specific conditions of combat operations in Ukraine. He added that Germany itself needs Tornado-type aircraft, as among other things they have to carry US nuclear bombs as part of NATO's nuclear sharing programme. Referring to the handover of MiG-29 fighter jets by Poland and Slovakia, he pointed out that the Ukrainian pilots need aircraft which they can use quickly and which can be serviced locally, and that each transition to a new type of plane increases the challenges involved in training the pilots.
A day later, Ukraine's deputy foreign minister Andriy Melnyk said Ukraine immediately needs 10 times more military aid (including F-16 aircraft) if the war is to end this year. He appealed to Kyiv's partners to cross all their "artificial red lines" and allocate 1% of their GDPs for arms supplies. He recalled that according to Pentagon chief Lloyd Austin, members of the international coalition have provided Ukraine with a total of $55 billion in arms aid. He also expressed serious dissatisfaction with the scale of equipment support provided by Germany. He pointed out that although the Bundeswehr has 382 Leopard-2 tanks, Berlin has agreed to donate only 18, adding that Germany has not provided a single Fuchs armoured personnel carrier or Wiesel light tracked vehicle.
On 21 April, the EU's High Representative for Foreign Affairs and Security Policy Josep Borrell reported that more than 16,000 Ukrainian soldiers have already been trained under the EU Military Assistance Mission to Ukraine (EUMAM), and the value of munitions delivered has exceeded €600 million.
On 23 April the Secretary of the National Security and Defence Council of Ukraine Oleksiy Danilov, referring to emerging proposals to start peace talks under Russia's dictates, appealed to Western politicians to avoid "pro-Russian peace operations". He added that deliveries of arms are "the best mediator, and the only communication argument which the Russian Federation understands". Danilov's speech came in response to remarks by Italian defence minister Guido Crosetto, who suggested bringing Ukraine and Russia to the negotiating table with the participation of China.
On the same day, British military intelligence reported that the Russian defence ministry had launched a new campaign to recruit volunteers. The intention is to postpone a new wave of mobilisation that could cause increased social tensions. A recruitment information campaign, appealing to the masculine pride of potential recruits and highlighting the financial benefits of joining the service, has been launched in Russian media. In addition, the Ukrainian government's National Resistance Centre stated that migrants from Central Asian countries with Russian passports are being pressured to join the Russian army. They are threatened with losing their citizenship if they avoid conscription. Those working illegally have been promised citizenship as soon as possible on condition that they undertake military service; if they refuse, they may be deported.
On 21 April, the head of Ukraine's Security Service, Vasyl Malyuk, announced that more than 300 traitors had been unmasked since last February, including nine in the SBU itself and 102 in the army and other defence structures.
On 23 April, the Belarusian defence ministry revealed that training in Russia for Belarusian soldiers operating Iskander missile complexes armed with nuclear payloads, which had been ongoing since the beginning of the month, has now ended.
Commentary
The eleventh meeting of the Ramstein group failed to produce a breakthrough regarding Ukraine's demands for modern combat aircraft and increased supplies of heavy armaments and ammunition; there have still not been any final decisions on launching a joint EU artillery ammunition supply programme. In terms of announcements of new support packages, Ramstein-11 was probably one of the poorest meetings in this format to date. Kyiv's partners reaffirmed their intention to implement promises made so far and emphasised the scale of the support they had already provided. However, the statements by top military officials and the US Army command raise doubts about their method of assessing the amount of armaments already supplied to Ukraine. While the claim that Kyiv has received more than 230 tanks from its partners since the fall of 2020 is justified, the one about 1550 armoured vehicles should be assumed to refer to all vehicles with any armour, and not (as further statements may suggest) combat armoured vehicles alone.

Reports that the West is preparing nine armoured (armoured-mechanised) brigades for the Ukrainian army must be considered as insubstantial. Depending on the equipment variants adopted, this would mean that in recent months the partners have provided Kyiv with support of at least 560 tanks and the same number of infantry fighting vehicles (assuming the brigade has two tank battalions and two mechanised battalions with a minimum of 31 vehicles each), or 850 tanks and 280 infantry fighting vehicles (assuming the brigade has three tank battalions and one mechanised battalion). Since the beginning of the conflict, the Ukrainian army has received some 660 tanks and 330 infantry fighting vehicles, the vast majority of them having been constructed in the Soviet period. These have been used to supplement the equipment losses of existing units. The Western armaments under which these new subunits are to be formed have so far been supplied with two tank battalions (based on the announcements made so far, the total will not exceed seven) and one mechanised battalion on infantry fighting vehicles (which will also number no more than seven). It should be assumed that the nine brigades announced by Austin and Milley refer to those tactical compounds which have retained their armoured-mechanised potential as part of the process of systematic rearmament and training, which and will form the core of the potential Ukrainian counteroffensive.