Analyses
Russia shows its frustration – 15 attacks on Ukraine's energy infrastructure
Russia has carried out a total of 15 large-scale missile attacks on energy facilities across Ukraine since October 2022. The most recent one, on 9 March, targeted infrastructure such as electricity transmission and district heating in eight regions, including Kyiv, Kharkiv and the Zaporizhzhia, Zhytomyr and Odesa oblasts. In total, the invaders launched 95 rockets of various types and eight kamikaze drones. 
The shelled regions experienced power cuts, but the grid operator Ukrenergo reported no electricity deficit in the system (conventional power plants were not hit this time). However, there were problems with supplying electricity to some regions, even though it was restored in most of the country within a few hours. The latest attack came 26 days after Ukraine became capable of producing enough electricity to cover its domestic needs. As a result of this capability, the government in Kyiv announced in early March that it would resume electricity exports to the EU. 
Commentary
The shelling involved a large number of rockets, but led to relatively limited problems with the electricity supply across the country compared to the attacks last November-December. This means that Russia is still failing to achieve its goal of paralysing Ukraine's energy sector as the heating season draws to a close. This is largely due to the fact that the intervals between successive attacks have been growing – they are too infrequent to permanently destroy Ukraine's generation and transmission infrastructure. The assistance of Western countries in providing equipment, particularly transformers and power transmission devices, has also been crucial in facilitating faster repair work and imports of small amounts of electricity from the EU. These circumstances have made it possible for the Ukrainian government to stabilise the system each time it was targeted, thus significantly reducing the risk of a total blackout.
Despite the earlier large-scale attacks on the country's energy infrastructure, the Ukrainian system has not reported any electricity deficits in recent weeks. Several factors have contributed to this. The refurbishment of one unit of the 1 GW Rivne Nuclear Power Plant was completed on 11 February. An unseasonably warm end of winter (in Kyiv, this January was one of the ten warmest since 1881) resulted in lower electricity demand. High temperatures and abundant rainfall also enabled more power generation in hydroelectric power plants.
The announced resumption of electricity exports to the EU, which were halted in October 2022, seems unlikely to materialise soon, at least on a larger scale. However, as the warmer months set in, domestic consumption will decline, theoretically allowing Ukraine to sell surplus production abroad. Unfortunately, the continued threat of Russian attacks on the energy infrastructure casts doubt on the stability of any potential supplies. 
Table. Russian missile attacks on Ukraine's electricity infrastructure between February 2022 and February 2023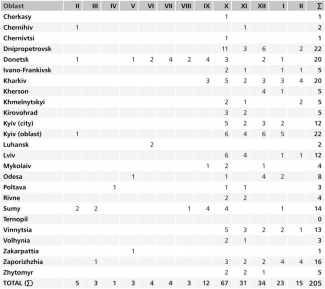 Source: Office of the Prosecutor General of Ukraine.