Analyses
Fifteenth attack on Ukrainian infrastructure. Day 379 of the war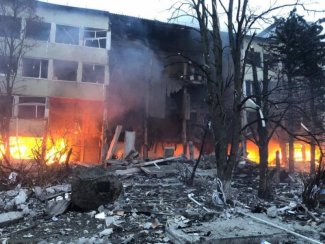 Source
www.facebook.com/zelenskiy.official
On 9 March, the Russians launched a further (according to statistics from Ukraine's main transmission system operator Ukrenerho, it was the fifteenth) attack on energy and industrial infrastructure in Kyiv and 11 Ukrainian oblasts (Kyiv, Dnipropetrovsk, Ivano-Frankivsk, Kyiv, Kirovohrad, Lviv, Mykolaiv, Odesa, Sumy, Zaporizhzhia and Zhytomyr). Prime Minister Denys Shmyhal reported that damage to energy infrastructure occurred in eight oblasts, with Kharkiv suffering the most severe damage.
According to the Ukrainian General Staff, Russia was said to have used a total of 95 missiles of various types (34 of which were shot down) and eight Shahed-136 kamikaze drones (four were destroyed). Once again, only two types of cruise missiles were reported downed (Kh-101/Kh-555 and Kalibr, of which the enemy is thought to have used 48). Ukraine still does not have the capability to shoot down the other cruise missiles used in the attack (Kh-22), hypersonic missiles (Kh-47 Kinzhal) and (nominally) air defence missiles (from S-300 systems). The Ukrainian Air Force Command further announced that eight air-to-ground guided missiles (Kh-31P and Kh-59) were mistimed by air defences and missed their targets. Command spokesman Colonel Yuriy Ihnat stressed that this was the first time Russia had used hypersonic missiles on a large scale (six Kinzhal missiles). He also pointed out that Belarusian territory was not used for the attack.
Russian artillery and aviation continued to shell and bombard the positions and facilities of the Ukrainian forces along the contact lines and in the border areas. In the defender-controlled part of the Donetsk Oblast, they also repeated attacks using missiles launched from S-300 systems. Outside the combat area, the main targets of Russia's shelling invariably remain the right-bank of the Kherson Oblast (towns located there, including Kherson, are thought to have been hit by an average of 400 missiles per day) and Nikopol and its surroundings.        
Ukrainian forces will redeploy further units to the area west of Bakhmut, with Chasiv Yar becoming the centre of defence. The Russians continued to attack the defenders' positions north-east of this village and along the M03 motorway towards Sloviansk, but made only limited progress. Among other things, they are believed to have captured Dubovo-Vasylivka, over which there had been fierce fighting in the previous days. They also continued to push the defenders of Bakhmut from the north and south of the city towards the centre. However, further attempts to break through Ukrainian positions south-west of Bakhmut and south of Chasiv Yar are believed to have failed. According to the Ukrainian General Staff, enemy troops were about to approach Kostiantynivka, although they attacked unsuccessfully in the area of the village of Oleksandro-Shultyne, located in the south-eastern outskirts of Kostiantynivka.
There was an increase in the intensity of Russian attacks north and west of Avdiivka and south of Marinka, where Russia was said to have recorded slight advances and was continuing its assault. By contrast, further attacks on other towns in an arc west of Donetsk, south and east of Siversk and north-east of Kupiansk are thought to have failed, as did attempts to advance on Vuhledar, which had resumed after a break lasting several days. According to Ukrainian military sources, the invaders launched a total of 110 attacks on 8 March (including 41 in the Bakhmut area) and 102 the day after.
Warsaw delivered the final ten of the announced 14 Leopard 2A4 tanks to Kyiv. The remaining vehicles of this type from Spain (six of them and Madrid is considering providing a further four), Canada (four) and Norway (eight) are due to arrive in Ukraine in March and, together with those from Poland, will equip one of the two Leopard battalions. German Defence Minister Boris Pistorius confirmed that Kyiv will also receive 21 Leopard 2A6 tanks (18 from Germany and three from Portugal) by the end of the month. These will form the nucleus of a second battalion (most likely to be supplemented by Swedish Leopard 2A5s). Pistorius also announced that a total of 9,000 Ukrainian servicemen will undergo training in Germany by the end of the year. Germany has donated another two Gepard self-propelled anti-aircraft guns (and a total of 34 so far) and 6,000 pieces of 35mm ammunition to the local army. By the end of March, 15 Victor anti-aircraft kits (a 14.5mm calibre KPVT double-coupled machine gun on a Toyota car chassis) from the Czech Republic are also due to arrive in Ukraine.
Slovakia's Defence Minister Jaroslav Nad' expressed that his country was ready to jointly deliver MiG-29 fighter aircraft (with Poland). He called for a quick decision in this issue. The Ukrainian Air Force Command expressed satisfaction at the possibility of receiving these post-Soviet machines, but stressed that they would not change the situation on the frontline, and once again called for F-16 fighters.
On 8 March, EU High Representative for Foreign Affairs and Security Policy Josep Borrell announced that a final decision on the joint transfer of 155mm calibre artillery ammunition from EU countries to Ukraine would be made on 20 March. It was previously announced that it would be taken at a meeting of member states' defence ministers in Stockholm on 7–8 March. According to information presently available, the decision is expected to concern one million shells from the warehouses of the armies of individual EU countries and those produced by them under a joint programme. Borrell also stated that by the end of March, 11,000 Ukrainian servicemen (out of 30,000 planned for 2023) will have been trained as part of the EUMAM Ukraine mission.
On 7 March, two rail transports with Russian soldiers and military equipment arrived at Asipovichy railway station in Mogilev Oblast and Polonka in Brest Oblast in Belarus. According to independent Belarusian sources, a total of around 450 men and, among others, 18 152mm calibre Msta-B gun-howitzer of have arrived. This is another rotation of Russian troops, who are training at local training grounds before heading to the frontline in Donbas.
Ukrainian volunteer assault brigades will be formed under the aegis of the Ukrainian National Guard. They will be trained for two to four months and only then will they be integrated into combat operations. This was announced on 9 March by National Guard spokesman Ruslan Muzychuk. He added that eight of these brigades will be formed, including six within the National Guard and two organised by the Interior Ministry. Since the beginning of February, around 1,000 people have been taking part in the training.
A Russian disinformation operation is underway, accusing Kyiv of wanting to destabilise the situation in Transnistria. On 9 March, the so-called Ministry of State Security there reported that a terrorist attack organised by the Security Service of Ukraine (SBU) had been prevented. Its target was said to have been 'the pre-eminent people of the state'. The accusation of Ukraine taking hostile action in Transnistria has been ongoing since 23 February, when the Russian Defence Ministry spread false information that Ukrainian forces were planning an armed incitement action in the region. The SBU called the reports by the so-called Transnistrian authorities a provocation by the Kremlin.
On 10 March, the SBU arrested the former general director of the Antonov aerospace company, Sergei Bychkov, and other company representatives. They were charged with sabotaging preparations for the defence of Hostomel airport, which resulted in its seizure by Russian troops on 24 February last year and the destruction of an An-225 Mriya transport plane. In the course of the pre-trial investigation, it was documented that in January–February 2022, representatives of 'Antonov' repeatedly refused to grant permission for the National Guard to construct engineering and fortification facilities at the airport. This contributed to the lowering of defence capabilities and ultimately facilitated the takeover of the facility by Russians.
On 8 March, the SBU reported the blocking of 26 channels on Telegram messenger through which instructions on how to avoid mobilisation were transmitted. Messages were sent about the whereabouts of representatives of the replenishment commissions handing out military summonses and urging those subject to mobilisation to go into hiding. More than 400,000 subscribers were watching the suspected channels. The six administrators were charged with obstructing the activities of the Armed Forces of Ukraine and other military formations, punishable by up to 10 years' imprisonment. So far, it has not been indicated whether the detainees were collaborators of the Russian special services (this has not been ruled out).
Commentary
For the first time, the Ukrainian army presented a communiqué about the missile attacks, which showed that the effectiveness of Russia's actions was higher than that of the defenders (Ukrainian air defence). 34 enemy missiles are believed to have been shot down, i.e. 36% of the total 95 used by the Russians (according to the Ukrainian General Staff). So far, the claimed effectiveness of the shoot-downs has oscillated around 70–80%, with hits of less than 50% (even of the order of 10-20%) periodically reported only by local sources in the combat areas. This change in coverage has to do primarily with a change in the way attacks are reported by the Ukrainian General Staff and Air Force Command. Previously, two types of data were published in summaries: incomplete data, taking into account only those types of missiles that the Ukrainian air defence was able to shoot down, or false data, which showed the downing of missiles beyond the reach of Ukrainian defences (in January this year, Colonel Ihnat, a spokesman for the command (and others) described the latter type of provided information as 'erroneous'). The increasing emphasis on the impossibility of shooting down a large proportion of missile categories and types (in addition to those used in the 9 March attack, including ballistic missiles, e.g. Iskander) should be read not only as a statement of fact, but above all as an element of pressure on Ukraine's partners to increase and accelerate the delivery of modern air defence systems.

The Ukrainian side did not provide a communiqué on the targets reached by Kinzhal hypersonic missiles (only one unspecified infrastructure facility in Kyiv was mentioned). Given their previous use to destroy arms supplies from the West, it must be assumed that they were also used for this purpose in the 9 March attack. The use of six missiles at the same time (until now they had mostly been fired individually) shows that Western support is becoming an increasing problem for Russia. The interpretation that the Kinzhal were used to attack energy infrastructure should be considered incorrect. As a target, it does not require such a specialised and expensive type of weaponry as hypersonic missiles. To destroy fixed infrastructure (including energy infrastructure), the Russians use other, less technologically advanced and cheaper types of missiles, some of which also remain impossible to intercept by Ukrainian air defences.