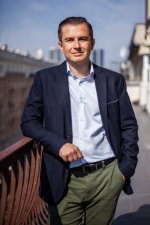 Michał Bogusz
Senior Fellow
China Department
Born in 1977, a graduate of political science at University of Gdańsk (2001) and international relations at Renmin University of China in Beijing (2005). In 2008 he defended a Ph.D. thesis in the area of political science. He has spent nearly nine years studying and working in China.
Expertise
Foreign policy of the People's Republic of China

Internal policies of the Central Committee of the Communist Party of China.
Major publications
Kulturowo-psychologiczne uwarunkowania polityki Chińskiej Republiki Ludowej w stosunku do Unii Europejskiej [w:] Unia Europejska - Chiny: dziś i w przyszłości, ISP PAN, 2014
Anarchizm zdegenerowany [w:] Studia z dziejów polskiego anarchizmu, Szczecińskie Towarzystwo Naukowe, Szczecin  2011
Ejércitio Zapatista de Liberación Nacional - wirtualna partyzantka [w:] Terroryzm w medialnym obrazie świata, Trio 2010