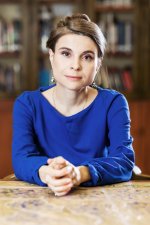 dr
Karolina Zielińska
Research Fellow
Israel Research Programme
Graduate of the International Relations Institute at the Faculty of Journalism and Political Sciences, University of Warsaw (2005). PhD in social sciences in political science discipline (thesis entitled Development aid to Sub-Saharan Africa countries as an element of Israeli soft power, Faculty of Political Sciences and International Studies, University of Warsaw, 2018). Studied also at the Tampere University and University of Haifa and completed research scholarship at Ben Gurion University in Beer Sheva. Employee of the Centre since December 2019.
Expertise
Internal and external policies of the State of Israel
Major publications
Changing Borders in a Changing Region: Civilian Dimension and Security Predicament at the Syrian-Israeli Border (współautor: Nir Boms), Israel Affairs, vol. 25, issue 4, pp. 675-698.
Book Review: Dmitri Trenin's What is Russia up to in the Middle East, Polity Press 2018, Stosunki Międzynarodowe - International Relations, 2017, 53/4, pp. 245–248 (in Polish).
Israel and the Southern De-escalation Zone: A Closer Look at the Israeli-Syrian Border (współautor: Nir Boms), Tel Aviv Notes - Contemporary Middle East Analysis / Moshe Dayan Center for Middle Eastern and African Studies, Tel Aviv University, 12.07.2018.

Relacje z krajami Afryki Subsaharyjskiej a sytuacja międzynarodowa Izraela w latach 1956-1973 (Sub-Saharan Africa in Israel's Foreign Policy 1956–1973), Stosunki Międzynarodowe - International Relations, 1 / 2016, pp. 247-270.

Development diplomacy. Development aid as part of public diplomacy in the pursuit of foreign policy aims: theoretical and practical considerations, Historia i Polityka, 16 (23) 2016, pp. 9-26.
Stosunki syryjsko-palestyńskie (Syro-Palestinian relations) – book based on M.A. thesis, Fundacja Stosunków Międzynarodowych, 2007, 160 pages. 
Konstruowanie historii i współczesności: teoria postemocjonalizmu a konflikt bośniacki (Constructing history and contemporaneity: post-emotionalism theory and the Bosnian conflict), Studia Międzynarodowe, 3 (1-4), 2007, pp. 265-292.
Kwestia palestyńska w kontekście syryjskiego zaangażowania w Libanie (Palestinian question in the context of the Syrian engagement in Lebanon), Stosunki Międzynarodowe – International Relations, 1-2 / 2006, pp. 134-149.