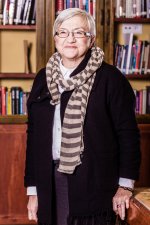 Jolanta Darczewska
, Ph.D.
Head
Retired employee
Born in 1950, graduate of the Institute of Pedagogy of Jagiellonian University, PhD. In OSW since 1992. Since 1993 she held executive positions: head of Press Department (1993-1998), Security and Defence Department (1998-2004), deputy director of OSW (2004-2007), director of OSW (2007-2011). Since 2011 the deputy director of OSW.
Since 2007 she is member of Council of the Foundation Aid to Poles in the East – currently the vice-chairman. Member of the Editorial Board of the "New Eastern Europe" journal (2008-2013). President of the Jury in "Ambassador of the New Europe" competition (2012-2013).
Expertise
Security of the Post-Soviet states in interior dimension, including security management, specialized authorities and their role in political system.