OSW Report
Forward, into the past!
Russia's politics of memory in the service of 'eternal' authoritarianism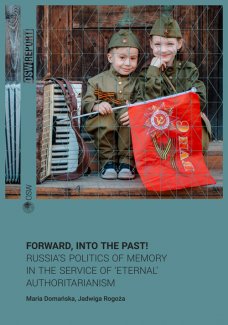 The Kremlin's vision of the past is becoming increasingly ideologised. This applies especially to the notion of victory over Nazi Germany in 1945, which has become a kind of a founding myth of Putinism. The historical narrative is intended to legitimise the authoritarian system of government as being optimal for Russia, and thus to perpetuate the model of state-society relationship that serves the Kremlin's interests. Its important function is to justify Moscow's aggressive foreign policy in the twenty-first century and its ambitions to influence the international order, including the European security architecture.
This report raises a number of questions. How does the regime guard the 'canonical' vision of the past? Why is popular culture one of the most effective tools for shaping minds in a militarised and authoritarian manner? Why do Russians view Stalin more and more favourably, and how does it correspond with the fact that more and more young people are eager to research the difficult history of their families, communities and hometowns? How does the Internet help? In search of answers, the authors examine both the activity of the state and the changes in the mentality of Russian citizens.