Analyses
Appreciating and mobilising Germany. Zelensky in Berlin
Cooperation
Jacek Tarociński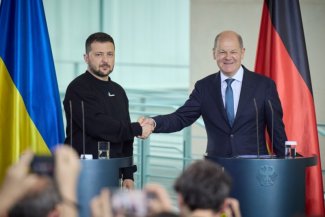 Source
Oficjalna strona prezydenta Ukrainy www.president.gov.ua
As part of his European trip, Ukrainian president Volodymyr Zelensky visited Berlin on 14 May, where he met President Frank-Walter Steinmeier, Chancellor Olaf Scholz, and attended a meeting of Germany's security cabinet (which Vice-Chancellor and Minister of Economy and Climate Protection Robert Habeck, foreign minister Annalena Baerbock, defence minister Boris Pistorius and finance minister Christian Lindner also attended). Zelensky also visited Aachen, to see the military unit where Ukrainian soldiers are training; he also received the Charlemagne Prize, which was awarded to him and the Ukrainian people in tribute to their "struggle for freedom, sovereignty and democracy, and the defence of European values".
Chancellor Scholz and President Zelensky signed a joint declaration condemning the Russian assault on Ukraine and affirming "Ukraine's inherent right to self-defence against unlawful and unprovoked attack". In it, they called on Moscow to immediately and unconditionally withdraw its troops from Ukrainian state territory within legally recognised international borders, and highlighted Germany's "unprecedented, significant and powerful contribution to military aid to Ukraine", for which Berlin has assigned more than €11 billion for 2023 and beyond. The declaration noted the assistance provided to over 1 million Ukrainian refugees in Germany and the transfer to them of €17 billion in financial support. The two leaders' meeting also provided an opportunity to confirm the new package of German military support for Ukraine announced on the eve of the visit, which will be worth a record $2.7 billion.
Commentary
Zelensky's visit was his first to Germany since the beginning of the full-scale Russian invasion. His visit there came after some delay: Berlin is only the eighth capital city (after Washington, London, Brussels, the Hague, Warsaw, Helsinki and Rome) he has visited since 24 February last year. This timetable was dictated, among other things, by Ukraine's dissatisfaction with the attitude adopted by the German government, which they see as having provided as yet insufficient military assistance in the war against Russia. A positive turn in relations came with Chancellor Scholz's decision in January this year, under pressure from the allies and from Ukrainian and international public opinion, to send Leopard 2 tanks to Ukraine, a move which gave the green light to other allied countries to supply these vehicles (see 'Niemcy wobec przekazania czołgów Leopard Ukrainie').
The change in Berlin's conservative attitude is the result of diplomatic efforts by Kyiv to use expressions of both criticism and gratitude to Germany's decision-makers. Ukraine's criticism had been expressed not only in the omission of Germany from Zelensky's diplomatic trips, but also in the earlier refusal to allow President Steinmeier to visit Kyiv. In contrast, the meeting with Scholz in Paris this February, the dismissal of the controversial Andriy Melnyk from his post as Ukraine's ambassador to Berlin last July, and President Steinmeier's reception in Kyiv in October, should be read as an appreciation of Berlin's decisions to expand military aid. Zelensky expressed the expectation at the meeting of Germany's security cabinet that "restrictions and red lines in the supply of all kinds of weapons to Ukraine should be lifted" and that "Germany should take a leadership role in the formation of a coalition of countries supporting the transfer of combat aircraft to Ukraine"; this should be seen as confirmation of the policy of applying public flattery and pressure behind the scenes to Germany, but also of the lingering distrust Kyiv has towards Berlin. According to Zelensky, only Germany's adoption of such a leading role would confirm that there was a real 'new era' (Zeitenwende) in the changing relations between the two countries (see 'Ukraine: Germany is under increasing criticism').
From Kyiv's viewpoint, the visit to Berlin did not mark a real breakthrough in relations with Germany. It took place as part of the Ukrainian leader's diplomatic tour of Western European countries: the day before it he visited Rome, while after his stay in Berlin he went to Paris on the same day, and to London the following day. Zelensky's main goal is to mobilise Ukraine's Western partners to increase their military aid to his country (especially the transfer of multi-role combat aircraft), as Kyiv says the current levels are insufficient for Ukraine to launch its declared counteroffensive. At the same time, his meetings with European leaders serve to convince them and international public opinion of Kyiv's position on possible peace talks with Russia. According to Zelensky, any such talks should be based on the so-called 'peace formula' assuming the full withdrawal of Russian troops and the trials of those guilty of war crimes. This demand is intended to neutralise the possible negative effects of the proposals to 'resolve the conflict as soon as possible' presented by Li Hui, China's special envoy for finding a political solution to the Ukrainian 'crisis'. Li is scheduled to visit several other European countries this week, in addition to Ukraine and Russia (see 'China's diplomatic game over the 'peace plan'').
The German government sees the Ukrainian president's visit as an opportunity to rebuild German credibility, which was badly damaged after 24 February 2022, and to close the period of tensions in relations between Berlin and Kyiv. This is confirmed not only by the ceremonial, top-ranking nature of Zelensky's visit, but also by the content of the two leaders' joint declaration, which indicated the comprehensiveness of German support covering political, military, financial, humanitarian and economic dimensions. Berlin has consistently presented itself as one of Ukraine's leading donors (see 'German support for Ukraine: taking the communications initiative'). According to Chancellor Scholz, his country's current and planned military support places it second (after the US) of the countries supporting Ukraine militarily, as President Zelensky confirmed at the joint press conference. Germany has also emphasised its assistance to Ukraine at the EU level, namely the funding within the EUMAM mission and the training of Ukrainian soldiers on German soil, coordinated by the Special Training Command.
A breakthrough in Berlin's policy toward the war came with the latest tranche of German military aid worth €2.7 billion. As part of it, the Ukrainian army will receive 18-wheeler howitzers (most likely RCH155s; they are not expected to be delivered before March 2025), along with artillery ammunition, four fire units of the IRIS-T SLM short-range air defence system (so far Germany has pledged to hand over four such systems, and has delivered two already) and 12 IRIS-T SLS launchers with missiles, another 20 Marder infantry fighting vehicles and 30 Leopard 1 tanks (these probably not before next year), more than 100 armoured vehicles, and more than 200 reconnaissance drones. This is Berlin's first decision to supply military equipment, which resulted not from pressure from its allies (primarily the US), but represents an individual initiative undertaken by Germany. With this, the Scholz government wants to show that despite the criticism Germany has received for its tardiness in supplying military aid, it can in fact support Ukraine in the long term and influence the course of the conflict.
The new package of German support and the highlighting of its status as the second-biggest donor of aid to Kyiv (after the US) are calculated to strengthen Berlin's position in the face of doubts about Washington's continued support for Ukraine as the US presidential campaign approaches. Germany wants to position itself as an essential, reliable ally of Kyiv and one of the leaders of any future peace negotiations. The entirety of Germany's latest support package will come from industrial stockpiles or current production, meaning that the deliveries will be made over a period of several or several months. Due to the long waiting period for the deliveries (Germany still has not delivered a significant part of the armaments it pledged back in 2022) and their limited scale, they will not affect the situation on the Ukrainian battlefield in the near term.
Germany is trying to shore up its credibility by emphasising the assistance it has given to the Ukrainian community, both among refugees and those who have chosen to remain in Ukraine. Berlin also wishes to be involved in holding those guilty of war crimes accountable. In addition, Germany is interested in supporting Ukraine in its reconstruction: for example, helping its companies, especially in the energy sector, by creating favourable conditions for their operation so they can benefit economically from the reconstruction process.
However, there are issues on which – despite Zelensky's efforts – Germany is not changing its position. The first is the disagreement over the transfer of fighter jets to the Ukrainian army, although for the time being the German-owned Eurofighter and Tornado aircraft have not been mentioned in discussions. As with the Leopard tanks, Germany does not want to be the first to take this step. Second, Germany's support for Ukraine's ambitions for EU and NATO membership remains cautious. Berlin has made the start of EU accession negotiations contingent on meeting further requirements, and the German government is awaiting the EC's report on the matter this autumn. Berlin supports the work of the NATO-Ukraine Commission as "a venue for further strengthening the partnership between NATO and Ukraine", but – despite Kyiv's pleas – it has not agreed to grant them a Membership Action Plan (MAP). Admittedly, in the declaration signed by Scholz and Zelensky, both sides refer to the 2008 NATO Bucharest Summit Declaration (which speaks in general terms about Ukraine's future NATO membership), but the document does not mention a specific offer to Ukraine. This framing of Ukraine's membership of the EU and NATO may be calculated to maintain public support for Scholz's policy toward the war. According to a survey published on 12 May by YouGov, up to 54% of Germans oppose inviting Ukraine to join NATO (27% of responders were in favour). At the same time, 55% of those surveyed were in favour of peaceful negotiations and an end to the war (28% were opposed).