Analyses
More intensive arms supplies and training for the Ukrainian army. Day 344 of the war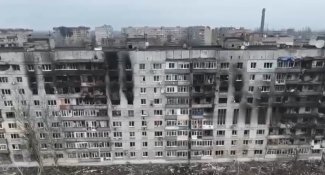 Source
war-evidence.mkip.gov.ua
Russian forces are still putting pressure on the Ukrainian positions in Bakhmut and the towns north and southwest of it, making it hard for the defenders to rotate troops and deliver supplies to the town itself. The aggressors have made advances south of Siversk, expanding their area of control over the road connecting that town to Bakhmut; they have also moved forward in the direction of Lyman, pushing Ukrainian forces away from Kreminna. The defenders have fended off further attacks in the Avdiivka area, in an arc west of Donetsk, and on the southern and eastern outskirts of Vuhledar. Fighting is also ongoing between Svatove and Kupiansk, where the invaders are trying to push Ukrainian forces out of the Luhansk oblast. The Ukrainians were said to be directing additional forces to defend Bakhmut, Marinka and Vuhledar, and have also attempted counterattacks in the Kreminna and Svatove areas.
The Russians have stepped up rocket attacks on the rear of a grouping of Ukrainian forces in the northern part of the Donetsk oblast, with renewed strikes on Sloviansk, Kramatorsk and the surrounding towns. The invader's artillery and aviation are still attacking Ukrainian positions and facilities along the contact line and in the border areas. The shelling of Kherson, Nikopol and the coastal towns in the Mykolaiv oblast has again increased in intensity. Mariupol has twice been the target of Ukrainian attacks, and further acts of sabotage have been reported in Melitopol. The Russian side reported that Ukraine had launched rocket attacks on targets in Russia's Bryansk oblast.
Ukraine's defence minister Oleksii Reznikov warned that "around 24 February" the Russian army could launch an offensive in two directions, towards the Donbas and southward. Ukrainian military intelligence (HUR) has also reported signs that the aggressors are preparing a new offensive. As it sees the situation, Vladimir Putin will issue an order to capture all of the Donetsk and Luhansk oblasts by March. Ukrainian intelligence believes that the Russians have not amassed sufficient forces in Belarus to enable them to launch another attack on Kyiv in the coming weeks. In preparation for this offensive, Russia is allegedly increasing the number of its troops; according to the HUR's chief Kyrylo Budanov, there are now 326,000 of them in Ukraine. According to Minister Reznikov, Russia has drafted nearly half a million troops into service in its so-called partial mobilisation, rather than the 300,000 which Moscow has officially declared.
US media have reported on their government's announcement of a new military support package for Ukraine. For the first time, this aid is expected to include missiles with a range of up to 150 kilometres: these are GLSDB weapons, consisting of a GBU-39 small-weight (GPS and inertial- guided) gliding aerial bomb (also known as a small diameter bomb), lifted by a missile load from MLRS or HIMARS systems. It would take at least nine months to prepare them for shipment to Ukraine. In addition, the $2.2 billion package would include 'air defence components' (probably additional components for the Patriot systems) and additional munitions.
The US Transportation Command (USTRANSCOM) has announced that more than 60 Bradley infantry fighting vehicles (out of the 109 which the US announced it would send) have begun shipping to Ukraine. Spain's defence minister announced that 20 M113 tracked transporters will be sent to Ukraine on 6 February. According to El País, Madrid plans to transfer between four and six Leopard-2A4 tanks to the Ukrainian army, and has not ruled out delivering more in the future. The head of Norway's defence ministry announced that his country would send Leopards to Ukraine at the end of March, but did not specify how many (earlier media reports said there would be eight). Greece, however, has refused to transfer Leopard-2s to the Ukrainians. According to the British defence minister, Challenger-2 tanks are expected to arrive in Ukraine "in early summer or May" (the deliveries had previously been announced for late March). The government in Berlin was expected to approve the sale by German companies to Ukraine of 88 Leopard-1 tanks which it has in storage – with the German defence ministry covering the costs. It has also been reported that Belgium and Denmark will purchase and transfer tanks of this type in local warehouses to Kyiv.
On 1 February, the defence ministers of France and Ukraine and a representative of the Thales Group signed a memorandum of understanding to deliver two GM-200 medium-range air defence radars to Ukraine. These will work in tandem with the French-Italian SAMP/T air defence systems which are expected to arrive in Ukraine within seven to eight weeks, according to Italy's foreign minister. In turn, the head of France's defence ministry confirmed earlier announcements that a further 12 155mm howitzers CAESAR on vehicle chassis would be transferred.
According to the Süddeutsche Zeitung, the German government intends to buy back 15 self-propelled Gepard anti-aircraft guns from Qatar, along with their ammunition, in order to hand them over to Kyiv. About 30,000 rounds for the Gepards will remain in Ukraine. These offer less than 1.5 units of fire per cannon, and as a result they are no longer used in combat operations, only to combat drones while conserving ammunition in the so-called economy mode. President Luiz Inácio da Silva of Brazil has publicly announced that his country will not transfer Gepard ammunition to Ukraine, as the German chancellor apparently asked him to do.
The European Union plans to increase the number of Ukrainian soldiers to be trained in 2023 as part of Ukraine's military support mission (EUMAM Ukraine) to 30,000 from the originally planned figure of 15,000. The official decision on this should have been taken on 3 February. As part of EUMAM, Paris has announced that 150 French military instructors will be sent to the Combined Arms Training Command (CAT-C) operational command deployed in Poland, where they are to train 600 Ukrainian soldiers per month. In addition, 2000 Ukrainian servicemen are to be trained 'by summer' in France. According to the Financial Times, Leopard-2 tank crews will begin training next week under the EUMAM programme. The Ukrainian tank crews will be sent to centres in Poland and Germany, and their training should last up to six weeks.
Ukraine's military attaché in Washington has reported that the soldiers training to operate Patriot air defence systems are "ahead of schedule" and will complete their training (which they began in mid-January) "within a few weeks". Meanwhile, on 2 February 70 Ukrainian soldiers arrived in Germany for training to operate the other battery of Patriots. Der Spiegel revealed that there have been problems with training Ukrainian crews for the Marder infantry fighting vehicles: the Bundeswehr is looking for 50 former or active military personnel who speak Russian or Ukrainian, who have served or are serving on Marders, and could act as instructors.
On 30 January, President Joe Biden announced that the United States would not send any F-16 fighter jets to Ukraine. The Dutch prime minister, in turn, said that he would consider any request by Kyiv for such aircraft, but as yet the Ukrainian side has not asked. Meanwhile, the head of the French defence ministry said that France would consider Ukraine's request for fighter pilot training.
The Belarusian defence ministry has confirmed that it has received a squadron of Iskander missile systems from Russia. These launchers are variants adapted for firing ballistic missiles (Iskander-M) of the type being introduced into service in the Russian army (which have a declared range of up to 500 km) and for cruise missiles (Iskander-K).
The Ukrainian Air Force Command's spokesman Yuri Ihnat noted that the Russian air force is using 48 airfields (including those in Belarus and occupied territories), and its potential is five to six times greater than that of the Ukrainian air force. He stressed that in order to secure air cover, it is necessary to create five more tactical aviation brigades equipped with one type of multirole fighter which meets Western standards. At present, according to Ihnat, Ukraine's air force consists of 11 brigades (1 training brigade, 3 transport brigades, 1 assault brigade, 1 bomber brigade and 5 fighter brigades), and the most likely candidate to replace the post-Soviet planes is the F-16.
On 1 February, new regulations governing pay in the Ukrainian Armed Forces came into effect. The 'wartime' allowance of 30,000 hryvnias per month (just over $800) for soldiers, Interior Ministry officers, conscripts and military school cadets and staff officers who are outside the frontline zone has been abolished. The right to receive the allowance will not be denied to those in positions where no direct fighting is taking place. On the other hand, soldiers who are fighting at the front (together with families of POWs and those missing in action) will continue to receive allowances of 100,000 hryvnias per month (about $2700). The Ukrainian defence ministry justified its decision in terms of the need to optimise state budget spending and the need to provide a decent financial remuneration for those who are performing tasks on the battlefield.
The head of the Interior Ministry, Ihor Klymenko, revealed on 2 February that he had initiated the process of creating volunteer 'assault brigades' from his ministry. As he expressed it, this move is intended to strengthen the state's defence potential and support its efforts to recapture the occupied territories. The new units are to be composed primarily of police officers, border guards and National Guard soldiers who have already acquired combat experience. It will take several months to train the volunteers, at first individually, then as part of a unit; when the commander considers the unit ready, they will move on to combat tasks.
Commentary
The expected new Russian offensive is increasingly being raised in Ukrainian messaging. However, whereas in previous weeks it had been expected in the spring, current statements suggest that it could happen as early as this month. These reports, reinforced by Anglo-American messaging proclaiming a Russian offensive, should be seen not only as a warning of a possible intensification of operations by the Russians, but above all as another call to speed up the delivery of heavy armaments and military equipment to Ukraine. The fighting over recent weeks in the Donbas indicate that Ukrainian forces are finding it increasingly hard to hold the defensive line, and practically every day they are having to give way to Russian pressure on one stretch or another of the line. This is due not only to the soldiers' physical exhaustion, but also to the growing shortages of equipment.

The intensification of the training for Ukrainian soldiers shows that the states offering military support know how difficult the current military situation in the Donbas is. The reports that tank crews are being trained in Poland and Germany, as are operators of Patriot systems in the US, allow us to assume that the first subunits equipped with them will arrive in Ukraine in early spring.

France's decision to send military instructors to Poland as part of the EUMAM mission (whose other host country is Germany) confirms that it is becoming not only the main logistical but also the main training base for the Ukrainian army. Most likely, Poland will also train the Ukrainian crews for the Bradley infantry fighting vehicles which will be sent to Europe relatively soon. It is also possible that subdivisions of Leopard-2 tanks from various donors will also be assembled in Poland, which (apart from Germany and Switzerland, which maintains neutrality) has the only comprehensive training centre for the use and operation of this type of tank.

After a year of war, the irregularities uncovered in the institutions responsible for the state's defence have become a pressing problem for the Ukrainian government. The anti-corruption offensive that has been launched has also confirmed earlier reports of that discipline among government officials is deteriorating, and that systemic corruption may be returning. Internationally, Kyiv's anti-corruption efforts are intended to show its Western partners that despite the negative effects of the armed conflict, it can still respond to the criminal actions of officials and maintain the effectiveness of the government. The authorities' activity in fighting corruption and fraud is also important for Ukraine's image in the context of the Ukraine-EU summit in Kyiv on 3 February, which confirmed the country's aspirations to join the European Union.