Analyses
Problematic German military support for Ukraine. 281st day of the war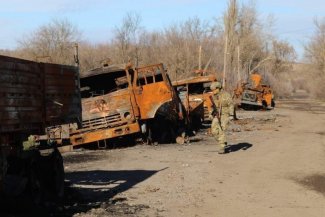 Source
war-evidence.mkip.gov.ua
Russian troops captured the central section of the Ukrainian defences west of the Bakhmut–Horlivka road and railway line and approached Siversk from the north and south-east. Without success, the Russians were to press south and east of Bakhmut, west of Horlivka and north of Avdiivka. In an arc west of Donetsk, the aggressor forces were to reach Marinka, on the outskirts of which fighting is taking place. Both sides are unsuccessfully attacking the border of Kharkiv and Luhansk oblasts. In the Kreminna area, Ukrainian troops have widened their attack belt, allowing them to approach the city from the north. The Russians are to regroup and consolidate in the occupied parts of Kherson and Zaporizhzhia oblasts.
The targets of the invaders' rocket attacks were the Dnieper River, Mykolaiv and Zaporizhzhia and its surroundings. Russian artillery and aviation continued to strike at the positions and rear of the defenders' forces along the contact line and in the border areas. Kherson and Nikopol, along with surrounding villages, are under permanent fire. According to the Ukrainian General Staff, the Russians have significantly increased air activity. As a result of Ukrainian shelling, a railway bridge between Melitopol and Tokmak in Zaporizhzhia Oblast was to be damaged. Melitopol was also once again the site of a Ukrainian diversion. It was also likely to have resulted in a fire at a fuel depot in the Bryansk Oblast. 
The British Ministry of Defence provided information on the change in Russian tactics. Battalion Tactical Groups (BTGs), formed with manoeuvre operations in mind, were proving inadequate for positional warfare, and their main drawback was said to be insufficient infantry. In turn, the decentralisation of artillery and its division among individual BTGs prevented the Russians from taking full advantage of their advantage over the enemy army in firepower. According to Ukrainian sources, the Russians are also moving away from using company-based tactical groups. Attacks after prior artillery preparation were undertaken with a force of 100–150 soldiers with significant support from heavy combat vehicles. Nowadays, platoon-level groups of 30–40 soldiers are used for assaults.
Slovakia has announced the transfer of 30 BMP-1 infantry fighting vehicles to Ukraine and is supposed to receive armaments from Germany. An LRU multiple rocket launcher, a French version of the US M270, has arrived in Ukraine from France. Among other things, Germany handed over three Biber bridge layers, eight surface drones and spare parts for Mi-24 helicopters. Berlin also announced the refurbishment and delivery to Ukraine in the spring of 2023 of a further seven Gepard self-propelled anti-aircraft guns, which had previously been earmarked for disposal. In addition, the German defence ministry has contracted 14 THeMIS unmanned ground vehicles (UGVs) for transport and reconnaissance, which are expected to arrive in Ukraine in the second quarter of next year. A contract for supplying six NASAMS air defence system launchers to the Ukrainian army, with a delivery date of November 2025, was signed by the US Department of Defense. Washington is currently negotiating an earlier delivery to Ukraine of NASAMS systems used by Gulf countries.
A spokesman for the Ukrainian Air Force Command, Colonel Yuriy Ihnat, reiterated requests for air defence equipment support and noted on this occasion that it was essential for Ukraine to obtain Western multirole aircraft (once again, he pointed to the F-15 and F-16). He stated that acquiring MiG-29 fighters would not solve Ukrainian aviation problems, as they were inferior to modern Russian aircraft in every respect.
On 28 November, Defence Minister Oleksii Reznikov stated that 97% of all targets Russia had attacked since 24 February were civilian facilities. A total of more than 16,000 missile strikes were recorded, including 14,000 on residential buildings, 250 on transport infrastructure facilities, about 200 on energy facilities and more than 500 on military facilities. On 30 November, Commander-in-Chief of the Ukrainian army General Valerii Zaluzhnyi reported that since the beginning of the war, radio-technical units had detected more than 240,000 air targets, of which the defenders were expected to shoot down nearly 80%.
On 28 November, Foreign Minister Dmytro Kuleba called for the rapid delivery of transformers to restore the functioning of the power system and for more power generators and air defence systems, without which the energy crisis will continue. Although repaired, it can be assumed that the system will continue to be destroyed by missile strikes. Prime Minister Denys Shmyhal reported that electricity production covers 70 per cent of consumption needs, with a 30 per cent deficit being corrected by consumption restrictions. He assured that despite planned and emergency power cuts, electricity supply could be guaranteed for five-six hours a day. On 30 November, President Volodymyr Zelensky confirmed that around 6 million subscribers had been disconnected – this mainly affects Kyiv and its environs and the Vinnytsia, Lviv, Odesa, Khmelnytskyi and Cherkasy oblasts. 
On 1 December, the National Security and Defence Council of Ukraine (NSDC) instructed the government to submit a draft law to ban the Ukrainian Orthodox Church of the Moscow Patriarchate in Ukraine (UOC-MP), and to initiate an investigation into the legal basis for its occupation of Kyiv Pechersk Lavra. President Zelensky called on all security bodies to intensify their efforts to detect the diversionary activity of Russian special services in religious circles. On 2 December, the Security Service of Ukraine continued the counter-espionage operation launched on 22 November and searched more UOC-MP facilities in Zhytomyr, Rivne and Zakarpattia oblasts. It was emphasised that the main task is identifying individuals involved in illegal activities detrimental to Ukraine's state sovereignty. Military intelligence there has not ruled out that clergy of the UOC-MP, detained on suspicion of collaborating with the Russians, could be exchanged for Ukrainian soldiers in captivity. 
Russia is continuing its disinformation operation against Poland and Ukraine. On 30 November, the head of Russia's Foreign Intelligence Service, Sergey Naryshkin, said that Poland was planning to annex the Lviv, Ivano-Frankivsk and part of the Ternopil oblasts. According to Naryshkin, Warsaw is convinced that it should be "compensated" for the military and humanitarian aid it has given Ukraine. He also claimed the Polish authorities are preparing to hold a "referendum" in the west of the Ukrainian state. Mykhailo Podolak, an advisor to the head of the Ukrainian presidential office, said that Russia – in order to sow distrust between friendly countries – continues to propagate the myth of Poland's alleged readiness to annex part of its neighbour's territory.
Commentary
The announcement that Germany will hand over more Gepard systems to the Ukrainian side indicates that Berlin is taking the needs of the Ukrainian army less and less seriously. Rather than securing them, German arms deliveries are increasingly generating problems. A permanent shortage of ammunition for the Gepards has already been handed over. The vehicles from the latest batch were equipped with just one fire unit, and the delivery to Ukraine of 35×228 mm cartridges for the Oerlikon GDF automatic guns that arm the Gepards was blocked in early November by Switzerland. A Ukrainian appeal to the authorities in Brazil, the only alternative producer of this ammunition, was also met with a lack of response. A way out of this situation is to start production of 35×228 mm cartridges by the Spanish company Expal Systems S.A., which has been taken over by Germany's Rheinmetall (it will take at least a few months to start production). 
Gepard ammunition is not the only issue related to German military support for Ukraine. In recent weeks, Kyiv has drawn public attention to the lack of missiles for IRIS-T systems. On the other hand, the PzH 2000 self-propelled howitzers require a major overhaul due to wear and tear and associated damage and failures. While ordering these vehicles, Bundeswehr did not plan to use them in classic warfare but only in low-intensity operations. It is symptomatic that while Germany refuses to supply Ukraine with tanks, it has recently equipped it with tractors to transport them.