Analyses
Gazprom: dip in production and exports, profits up
On 1 September, Gazprom said it produced 288.1 billion m3 of gas from 1 January to 31 August this year, down 49.1 billion m3, or 14.6%, on the same period last year. According to calculations by the Bloomberg agency based on the above data, the company's daily gas production in August amounted to 829 million m3 , up 7.1% from the level in July this year.
In its announcement, Gazprom also said that in the period indicated, gas exports to the so-called 'far abroad' countries (Europe excluding the Baltic States, as well as Turkey and China) amounted to 82.2 billion m3, down 49.1 billion m3, or 37.4%, on the same months last year. However, the company pointed out that supplies to China via the Siberian Power pipeline are steadily increasing it has not disclosed detailed volume figures. The communiqué also estimated that in January-August, global gas demand fell by 40 billion m3, of which 29 billion m3 was accounted for by EU member states. It also points out that, as of 30 August, the filling of gas storage facilities in Ukraine is 13.1 billion m3 (according to Gazprom, this should be a minimum of 19 billion m3). It further stated that, although it is theoretically possible to increase their levels, realistically it is not possible.
In recent days, there has been another reduction in the supply of Russian gas to the EU market. As previously announced, the transit of gas through the Nord Stream 1 pipeline was halted on the morning of 31 August. The outage is expected to last until 3am, 3 September. Also on 31 August, Gazprom stopped gas supplies to the French company Engie. It justified its decision on the grounds that Engie had not paid for its July imports by 30 August (by the end of the business day). Gazprom also cut gas supplies to the Italian company Eni by about 26% on 31 August (from 27 to 20 million m3 per day).
On 1 September, Russian presidential spokesman Dmitry Peskov stated that the crisis situation regarding the operation of the Nord Stream 1 pipeline was a direct consequence of sanctions against Russia. He pointed out that the restrictions imposed by Western countries (including those adopted by the UK) prevent the implementation of many long-term service contracts and generate a number of problems for Gazprom. The company's CEO Alexei Miller reiterated these ideas on 31 August. He stated that due to European sanctions, only 20% of Nord Stream 1's capacity is being used ("Europe itself has fallen into a sanction trap"). He also announced the build-up of record gas stocks in storage facilities located in Russia (he pointed out that the current fill rate is 92%).
Iranian Oil Minister Javad Owji announced that an agreement between NIOC and Gazprom on gas purchases and swap deliveries would be concluded in the near future. In July this year, the two entities signed a memorandum of strategic cooperation, including joint projects in the upstream sector, infrastructure projects and gas and oil product swap transactions.
On 31 August, US National Security Council spokesman John Kirby announced that on 2 September, G7 finance ministers would discuss an initiative to introduce a price cap on the purchase of Russian oil.
1 September, Russian Deputy Prime Minister Aleksander Novak stated that Russia would not supply oil to those countries that introduce price caps on Russian energy resources. In addition, he announced that Moscow was in favour of extending the OPEC+ agreement (the agreement concluded in April 2020 expires this year). He added that this decision by the Russian authorities is also supported by Russian oil companies. At the end of August, Saudi Arabia's energy minister declared that work on a new OPEC+ agreement would begin soon.
Three Japanese companies – Tokyo Gas, Kyushu Electric Power and JERA (a joint venture between Tokyo Electric Power Co. and Chubu Electric Power Co.) – have renewed contracts to purchase LNG from Russia's Sakhalin 2 project. Sakhalinskaya Energija has been its new operator since 5 August.
Table. Oil and gas prices from 26 August to 1 September this year (at end of the day)

* During the day it exceeded $104 per barrel.
** During the second half of the day it exceeded $3,500 per 1,000 m3.
Source: author's work based on data published on Прайм, 1prime.ru.
Commentary
Although Gazprom has significantly reduced its gas production and exports since the beginning of the year, this has not yet entailed any major financial consequences for the company itself. According to information provided on 30 August by the corporation's deputy chairman of the management board Famil Sadygov, in the first six months of this year, despite a 31% drop in the volume of sales to the so-called 'far abroad', the company recorded a profit of ₽2.5 trillion roubles (compared to ₽968.5 billion in January-June 2021). On the same day, Gazprom announced that the board of directors would recommend the payment of a dividend for the first half of the year of ₽51 per share. The favourable financial results are primarily a consequence of high gas and oil prices, which are currently compensating for the significant declines in export volumes. While in 2021 the average gas price on the TTF hub was (according to Gazprom's calculations) around $568 per 1,000 m3, this year the price values in individual months significantly exceeded that (for example, in July 1,000 m3 cost more than $1,700 on the TTF on average). It cannot be ruled out that the financial results for the second half of the year will also prove favourable for the group. Given the nature of the price formulas provided for in Gazprom's long-term contracts (price modifications take place with a quarterly, six-month or nine-month lag), the effects of significant increases in gas spot markets and oil price increases may not be visible until the following months. However, the final results will also depend on the scale of any further restrictions on Russian gas exports to European customers.

The tangible increase in sales to so-called "far abroad" customers noted in August (compared to July) is most likely a consequence of increased deliveries to China via the Siberian Power pipeline. Gazprom itself has emphasised that monthly gas export volumes via this pipeline regularly exceed the contracted values for this year.

Although Gazprom's communiqués on production and export volumes are published roughly every fortnight, it was only in the latest one that the company drew attention to the low levels in Ukrainian gas storage facilities for the first time since Russia's invasion of Ukraine. Given the needs of European countries to stockpile reserves for the coming heating season and Gazprom's systematic reduction of supply, it cannot be ruled out that gas exports via the pipeline running through Ukraine will be reduced or stopped in the near future. This scenario is directly signalled by part of the Russian media, and an official pretext could be found, for example, in the EU's introduction of a price ceiling on gas supplies from Russia (this is currently under consideration in Brussels). A complete stoppage of Russian supplies to Europe would fit in with the logic observed in recent months of Moscow escalating the gas crisis.

In its communications on production volumes and volumes of gas supplied to individual markets, Gazprom does not disclose data on the volume of supplies to domestic customers. The corporation only publishes information on the scale of the decrease in subsequent months compared to the same periods last year (in January-August this year, they fell by 4.7 billion m3, i.e. by approximately 2.9% year-on-year). At the same time, in the absence of the publication of data to serve as a benchmark, it is impossible to assess how much gas is ultimately delivered to domestic customers and how much is destroyed after extraction. In recent weeks, there have been media reports suggesting that significant quantities of gas are being burned off in the vicinity of the Portovaya compressor station (which allows gas to be exported from Russia via the Nord Stream 1 pipeline). These were estimated to be worth $10 million per day. The Rystad Energy Agency estimates that approximately 4.34 million m3 of gas may be being burned off per day in Russia.
Chart 1. Gazprom's gas production in January-August in 2021 and 2022.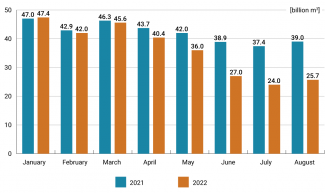 Author's work based on monthly data published by Gazprom.
Chart 2. Gas exports by Gazprom to so-called "far abroad" countries in January-August in 2021 and 2022.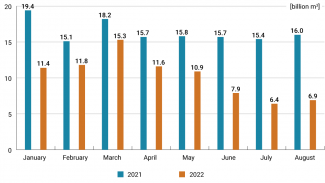 Author's work based on monthly data published by Gazprom.