Analyses
Going long-range: the development of Estonia's coastal defence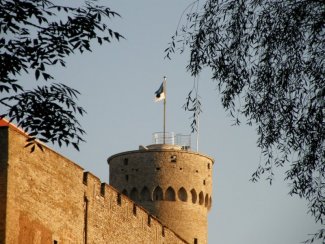 On March 5, Estonia updated its long-term National Defence Development Plan for 2017–2026. It has been divided into shorter four-year planning cycles, including a new medium-term one for 2022–2025. After a period of directing most of the funds to infantry fighting vehicles and self-propelled artillery (the purchase of CV90 and K9 howitzers), investments in coastal defence have been prioritised in the development of Estonia's military capabilities. This includes the purchase of sea mines and the formation of a coastal missile unit. Estonia will also continue replenishing its stockpiles of large-calibre ammunition. It will allocate €135 million for this purpose by 2025. The financing of the armed forces will be maintained at the present level where defence spending is 2% of GDP plus expenditure on hosting allied forces and an additional defence investment fund. Estonia's armed forces have 7,000 soldiers, of whom less than half are conscripts. The territorial defence forces headcount is about 16,000. The wartime strength is over 21,000 troops.
Commentary
Estonia is moving to the next stage in the development of its armed forces. After a period of investment in the basic systems for the land forces, whose task is to delay enemy forces until allied reinforcements arrive, Estonia wants to develop longer-range capabilities. According to information available, this will initially include land-based coastal defence systems with a range of up to 200 km, scheduled for acquisition in 2022. Estonia will allocate €46 million for this purpose. Ground-based air defence systems worth €200 million are planned to be purchased after 2025.

Estonia sees new opportunities for closer military cooperation with Lithuania and Latvia in building joint capabilities. So far it has been the most sceptical of the Baltic states towards deepening trilateral defence cooperation, which has manifested itself in a reluctance to coordinate defence planning and in the withdrawal of an Estonian ship from the Baltic Naval Squadron (BALTRON). Now a chance is opening up for the partial synchronisation of the modernisation of the Baltic states' armed forces, as they are approaching the end of mechanisation programs, which have taken up the lion's share of their equipment expenditures (Lithuania, Latvia, and Estonia have chosen different platforms). The creation of a 360-degree access denial "bubble" by the Baltic states is being discussed. This would include common procurements of sea mines, coastal defence systems (discussions on this topic are underway between Estonia and Latvia), followed by the purchase of artillery with a range of up to 350 km. According to the commander of the Estonian armed forces, such long-range capabilities would create the possibility of joint defensive operations by the Baltic states and mutual military assistance. However, difficulties in developing common programs will remain significant, as evidenced by Estonia's 2020 withdrawal from a Finnish-Latvian armoured vehicle project.

Estonia's increasingly ambitious plans to develop its armed forces may surpass the country's financial capacities. Announcements to strengthen coastal defence have been accompanied by a public debate on defence spending. Although 2.3% of GDP was earmarked for this purpose in 2020–2021 (€615 million in 2020 and €645 million in 2021), the economic effect of the pandemic will slow down their rate of growth in the long run. It is already becoming increasingly challenging for Estonia to reconcile the modernisation of the armed forces with the current upkeep (especially considering the fact that the 2nd Infantry Brigade is being formed). During the pandemic it will be difficult for the Ministry of Defence to obtain additional budget funds. In the area of national security, investments in armaments and military equipment are also competing with plans to create crisis personnel reserves within the police and border guard, as well as to create an Estonian Supply Centre based on the lessons learned from the fight against the pandemic.