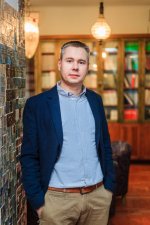 Tadeusz Iwański
Head
Department for Belarus, Ukraine and Moldova
He graduated from Ukrainian Philology and the Center for Eastern Europe at the University of Warsaw. He also studied at the University of Ivan Franko in Lviv, and at the School for Social Sciences, and at the Institute of History both at the Polish Academy of Sciences. In OSW since 2011, head of department since 2020. Previously worked at the External Service of Polish Radio, and cooperated with the non-governmental sector.
2021 Guest Fellow, Stiftung Wissenschaft und Politik, Berlin
2010-2020 member of the editorial board of the Nowy Prometeusz magazine
2006-2012 r. coach in the SENSE program - Strategic Economic Needs and Security Exercise
2016-2019 expert at EU-STRAT, (EU's Horizon 2020)
Expertise
domestic & foreign policy of Ukraine and Belarus
Major publications
Rok wojny w analizach Ośrodka Studiów Wschodnich, OSW, luty 2023 (współautorstwo, współredakcja)

War as the new normal: Ukraine six months since the Russian invasion

, OSW Commentary, 23.08.2022

Ukraine: 100 days of existential war

, OSW Commentary, 4.06.2022

Zelensky vs. Akhmetov – a test of strength

, OSW Commentary, 22.12.2021 (współautorstwo)

A pillar of the system? The political phenomenon of Arsen Avakov

, OSW Commentary, 3.06.2021 (co-author)

How the COVID-19 pandemic will develop in Ukraine

, OSW Commentary, 27.03.2020

To serve the people – total power in Zelensky's hands

, OSW Commentary, 24.07.2019

Zelenskiy: Anatomy of a success

, OSW Commentary, 3.04.2019

Ukraine's presidential elections, 2019. The main candidates,

OSW Report, 11.09.2018 (with Krzysztof Nieczypor)

Ukraine–Hungary: the intensifying dispute over the Hungarian minority's rights

, OSW Commentary, 14.08.2018 (with Andrzej Sadecki)

Poroshenko stands alone. Ukraine politics in a pre-election year

, OSW Commentary, 21.05.2018

From vassalisation to emancipation. Ukrainian-Russian gas co-operation has been revised

, OSW Commentary, 7.03.2018 (with Szymon Kardaś)

Interdependencies of Eastern Partnership Countries with the EU and Russia: Three Case Studies

, EU-Strat, 2018

Ukraine–Russia. Analysis of Selected Trends in Economic Cooperation in 2014–2018, w: Polish-Ukrainian Cross-Border Cooperation, Opportunities and Challenges, Edited by Wojciech Gizicki, Pavlo Sheremeta, Olena Kovalchuk, Toruń 2019.