The challenge of freedom in the Southeastern Europe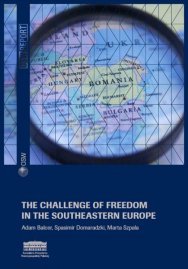 Over the past few decades substantial progress has been achieved in the democratisation and modernisation of the countries of Southeastern Europe. The formal democratic institutions were introduced, a liberalisation of trade resulted in the reintegration of the region into the global economy and some of them successfully applied to join the EU and NATO. But the transformation process is far from over. In the past years the achievements of the political and economic transformation have been rolled back and the quality of governance has declined in many countries. To avoid a further deterioration of the situation in the region the new impulse for institutional transformation and a change of the development model are needed.
This report is the outcome of a discussion held during the conference "The Freedom Challenge in Southeastern Europe – Implications for Poland". This joint event was developed by the Centre for Eastern Studies and Ideas Lab – the President's Expert Programme at the Chancellery of the President of the Republic of Poland. The chapters of the report reflect the main three subjects debated during the conference. In the first chapter Spasimir Domaradzki assesses the rule of law and its influence on the consolidation of democracy in the region. In the second chapter Marta Szpala focuses on economic development in Southeastern Europe. The third chapter is written by Adam Balcer and analyses the key instruments Russia is using to build influence in this region.