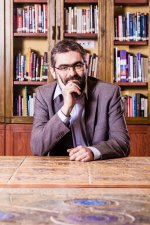 Maciej Falkowski
Head
Former OSW Employee
Maciej Falkowski studied at the Institute of International Relations and the Centre for East European Studies at the University of Warsaw. From 2002 until 2010 and from 2013 until 2017, he worked in the Russian Department and later in the Department for Turkey, Caucasus and Central Asia at the Centre for Eastern Studies.
From 2010 until 2013 he was First Secretary for Political Affairs at the Polish Embassy in Yerevan, and from 2017 until 2019 President of the Management Board of Solidarity Fund PL.
Expertise
political situation and social changes in the countries of the former communist bloc

challenges for stability in the Caucasus, Central Asia and the Balkans

islam in the countries of the former USSR
Major publications
From apathy to nationalist mobilisation: politics makes a comeback in Armenia, Centre for Eastern Studies, Warsaw, June 2016.
Russia's 'Middle East': the escalation of religious conflicts in the Northern Caucasus, Centre for Eastern Studies, Warsaw, April 2016
Georgian drift. The crisis of Georgia's way westwards, Centre for Eastern Studies, Warsaw, February 2016
Homo Jihadicus. Islam in the former USSR and the phenomenon of the post-Soviet militants in Syria and Iraq (coauthor Józef Lang), Centre for Eastern Studies, Warsaw, September 2015
Ramzanistan. Russia's Chechen Problem, Centre for Eastern Studies, Warsaw, August 2015
Hostages to Moscow, clients of Beijing. Security in Central Asia as the role of the West diminishes, (współautor Józef Lang), Centre for Eastern Studies, Warsaw, October 2014
The 'Tribal Areas' of the Caucasus. The North Caucasus – an enclave of 'alien civilisation' within the Russian Federation, Centre for Eastern Studies, Warsaw, April 2010